By Joseph 'Afamhe
The country's external reserve has declined by $0.8 billion in one month, analysis of data sourced from the Central Bank of Nigeria (CBN) has shown.
Further examination of the data showed that the reserve, which is the major support of the country's import, has recorded an unbroken daily decline within the period.
Prime Business Africa studied the external reserve movement pattern between May 25 and June 25, the last available data. The analysis revealed a similar statistical trend between the gross and liquid figures, both of which recorded 0.77 per cent drop in the period reviewed.
On May 25, gross and liquid external reserve closed at $34.29 billion and $34.08 billion respectively only to fall to $33.52 billion and $33.31 billion a month later, June 25, 2021.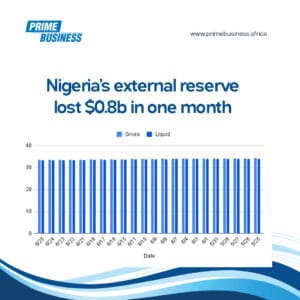 The chart has followed a similar pattern since mid-April when it climbed to $35.2 billion before a sharp retreat that has seen the figure dropping daily.
The figures are at their fourteen-month low. The last time Nigeria posted a $3.5 billion reserve or lower figure was April last year when the global economy was locked down to contain the spread of COVID-19. Then, Brent was trading at about $30 per barrel as China and other manufacturing hub were grounded by the pandemic.
Prices of crude have since doubled. Brent for instance was trading for $78.58 per barrel for the August contract on Monday. That was over 120 per cent of its price when Nigeria's reserve was at the level it was last week.
Understandably, the country does not receive payment for the current contract as crude trades in future markets. Still, crude prices have remained over $60 since the February sale with the proceeds already received.
Some economists have explained that the growing subsidy spending is part of the cause of the declining reserve. Reports say that the landing cost of a litre of premium motor spirit (PMS) has hit N232 while retail price remains at N162, implying that the Nigerian National Petroleum Corporation (NNPC) is carrying under-recovery of at N70 per litre on its book.
Stan Ukeje, former deputy director of the Central Bank, also explained that contract-crude swap was a major hole in the country's monthly foreign exchange receipts. The proceeds of crude pledged in repayment of infrastructure loans do not get to the country.
"Not all oil cargoes have off-takers. Only International Oil Companies (IOCs) have steady market access because they are linked with oil refineries, Petrochemical plants and strategic storage facilities. Politically connected firms which are awarded oil lifting contracts by NNPC have neither vessels nor market access. So, rise in global quantity demanded and in price may not translate to higher fiscal revenue," he also explained.
The nose-diving reserve is a major concern on import funding. Sadly, since August 2008 when the reserve hit an all-time high of $64.8 billion, Nigeria's quarterly import bills have doubled.
Last quarter, the country's total import value was N6.85 trillion. That is close to double the value recorded in the same period in 2019. A rising import volume, declining reserve coupled with a protracted currency crisis, experts have suggested, are alarm bells for any economy.
Support Investigative Journalism and Mentorship
Courageous Journalism of Truth,Transparency and Development is in the DNA of Prime Business Africa; By donating as little as N1000 or $1 today, you are helping to keep credible journalism and life-changing information free for all.