The surge in costs of cooking gas is a major source of worry to many Nigerians, who now purchase gas at very high prices. In less than months, prices jumped by as much as 45 percent, from N4700 (for 12.5kg cylinder) to as much as N5700.
Average cost for filling other sizes of gas cylinder are highlighted as follows: 1kg that was formerly sold for N400 is now N600; 3kg now goes for N1400, as opposed to N1000 that was the cost two months ago; 5kg moved from N2000 to N2500.
"Most people who cook with gas just come to my shop to buy whatever they can afford, few people fill their cylinders to the brim and manage it as best as possible" Yaqub, a gas seller
With the high casualty rate in wood fuel 'accidents, and in use of charcoal, and kerosene, environmental campaigners have canvassed cooking gas as a more viable option.
Writing for Prime Business Africa recently, Africa's renowned businessman and social entrepreneur, Mo Ibrahim and former President of Ireland, Mary Robinson, had called for action on dirty cooking fuels.
Mr. Ibrahim and Ms. Robinson urged world leaders to rethink how they perceived and prioritised cooking, with a focus on lack of access to clean cooking in Africa with its health, development and climate toll.
No fewer than 900 million Africans rely on wood fuel, charcoal or kerosene to prepare daily meals, the two authors argued. However well-managed, these fuels would produce smoke, greenhouse gas emissions, and particulates, which cause coughing and lung and respiratory diseases.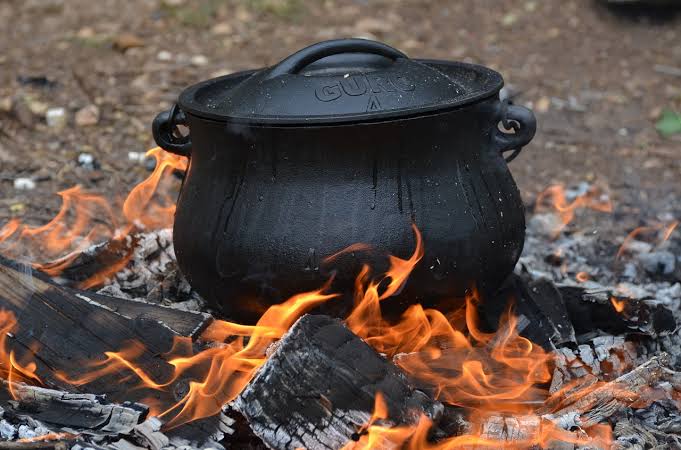 Firewood cooking. Photo credit: Google
They notably highlighted that across the continent, there are an estimated 500,000 premature deaths each year from indoor air pollution.
In line with this reasoning, Ibrahim and Robinson in the Clean Cooking Manifesto, called on governments, development partners, and the private sector to accelerate action on clean cooking, so that its universal access becomes a shared priority for Europe and Africa. They also put forward concrete examples on how this should be undertaken, such as supporting a robust clean cooking industry through tax and import duty exemptions.
As much as Nigerians would love to toe the line of clean and healthy cooking using Liquefied Petroleum Gas, lack of infrastructure and clear-cut policies from the government to drive LPG has made it too expensive for the masses who have limited or restrained purchasing power to achieve clean and healthy cooking.
Omoni Okonkwo, a natural gas analyst attributed the reasons for the challenges with cooking gas to lack of proper storage, distribution facilities, and poor transport infrastructure.
Speaking in a programme on Arise TV, monitored by Prime Business Africa, Okonkwo said, "We have lots of gas but no infrastructure around the resources, this accounts for why gas is seldom available at the filling stations to the consumers."
Okonkwo said to reduce imports, adequate investments are needed. "Gas suppliers are paying in dollars to import LPG and due to inflation, this affects the retail prices. We need to lay a good foundation which would include distribution, storage, and policies that will ensure we have the enabling environment for investment to thrive"
The price of a 12.5kg cylinder of cooking gas currently stands between N500 and N6,000 as against what was obtainable just 2 months ago, leading some people to resort to using other means of cooking such as kerosene and charcoal.
"I budgeted N4,700 to refill my gas as usual and getting to the filling station, I am told the price of a 12.5kg is now N5,700. I just stood there in confusion. Government should please help us do something to this situation," Francis Wale told Prime Business Africa.
Another respondent, Bala Zakat said, "The truth is that we do not know where are going in this country, because of the insensitivity of the government to the plight of Nigerians, policies which do not affect the life of masses are introduced. For me, I don't see the price of cooking gas down anytime soon."
"If the government says we have gas in abundance why does the price keep going up, the sad part is that our income remains fixed, meanwhile all the things we need to survive in this country keep getting expensive," Kowe Janet said.
Meanwhile, the Federal Government, through the Minister of Petroleum, Timipre Sylva, had in April reiterated the resolve of the government to launch Liquefied Petroleum Gas distribution channels in every local government in-country.
The FG also announced plans to inject 5 to 10 million Liquefied Petroleum Gas (LPG) cylinders into the market by 2022.
But these plans are not yet implemented, which leaves Nigerians in continuous struggles.