Professor of Political Economy, Pat Utomi, has harped on the need for more robust awareness campaigns about prostate cancer among men in Nigeria.
Utomi, who was diagnosed of prostate cancer last year, said he had been conscious of it and was lucky to have it detected and treated earlier.
Prime Business Africa had reported that Utomi, recently revealed his ordeal with Prostate cancer which he managed for a while in Nigeria before moving to the United States for comprehensive medical care shortly after the 2023 general elections.
In an interview with Prime Business Africa on the sideline, when members of the University of Nigeria Nsukka (UNN) Jacksonite Alumni group visited him on Saturday, August 12, 2023, Prof. Utomi said he got alarmed about the prevalence of the disease when he made inquiries among people and discovered that many men were facing similar challenge but unable to speak up.
He said many appear to lack knowledge of the ailment and what they need to do for prevention, detection, and managing it if one is eventually infected.
Speaking further on what led him to make his case public, Prof Utomi said that one of the medical experts attending to him revealed that more than 50 per cent of men above the age of 60 are likely to deal with prostate cancer.
He said: "I have been managing the prostate challenge for two years now. The biopsy done more than a year ago proved that it was cancerous, but I was treating it quietly.
"When I returned to the country and while talking with some friends on the need for people to be more sensitive to the fact that here's a problem that men need to be aware of and manage and early, I found out that many men were actually in the same situation. When I began to dig more, I finally found that you could technically call it an epidemic.
"One doctor, in fact, said to me that 50% of Nigerian men who crossed the age of 60 are going to deal with this. So, I thought that we must do what the women did more than 30 years ago with regards to breast cancer situation.
"I thought that a lot of men were going around not knowing what their friends were suffering from, and therefore falling into the trap of getting on the short end because of lack of awareness. So, I thought I should speak up about it to help."
"The idea is to encourage men to begin to go for their PSA tests. Men over 40 must make an effort to check on their prostate health," he said.
He also urged men to be conscious of their diet by paying attention to things that help improve or prevent the ailment.
"There is also the fact that there are many simple natural remedies that are being touted as health-like."
Prof. Utomi said he was initially asked by close friends and family members not to reveal it, but at some point in his recovery, he felt there was the need to let the public know about it.
He said people need to open up about their health challenges to seek better solutions.
Utomi stressed that in the case of cancer, early detection is key as it helps in managing the condition before it gets to an advanced stage.
"So, the more we educate people on these matters, perhaps the less troubling, the experience of many would be."
He said that people need to conduct frequent checks on their body system to be able to detect cancer cases early enough.
While expressing his gratitude to the Jacksonites for paying him a visit, Utomi called on communication professionals to take up the challenge by using various media platforms to create massive sensitisation on the scourge of prostate cancer so that many men could be aware and learn how to prevent and manage it.
He appealed to media professionals to see cancer awareness as part of their social responsibility.
"Experts in Communication, obviously have a direct personal role in helping people find their voices and this is clearly an area where people's voices need to be heard on the matter of the debilitating disease which if caught early could be managed better.
"I think it's important that we do for men what the breast cancer campaigns have done for women in the last couple of decades," Utomi told Prime Business Africa.
In a session led by Susan Eshett, a Jacksonite and former executive at ExxonMobil, the group prayed for Prof. Utomi to have full recovery and longer life in fulfillment of all his ambitions.
Jacksonites is the alumni group for UNN graduates of Mass Communication, of which Prof Utomi is the president.
Members of the group on the courtesy visit were Dr Marcel Mbamalu, Publisher of Prime Business Africa; Mr Chido Nwakanma, Communication Consultant, Ikem Okuhu, Journalist; Ugo Onuoha, a former Managing Director of Champion Newspapers Limited, Lagos; Susan Eshett, former Executive at ExxonMobil; Ejike Ekwegbalu, CEO of Midworld Resources; Jeremiah Agada, Deputy Editor, Brand Communicator.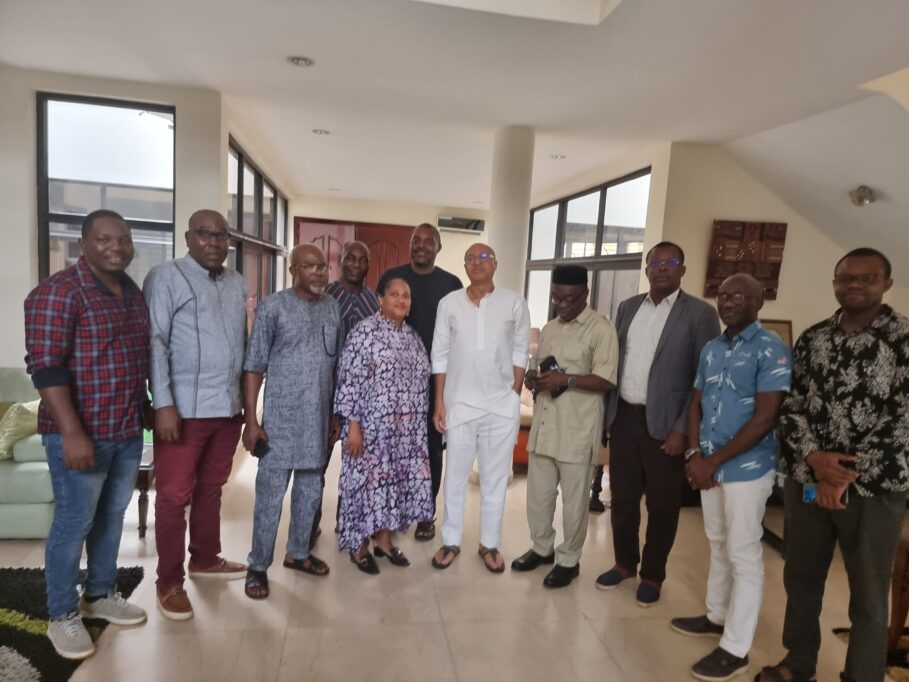 Mr Nwakanma thanked all who honoured the call to visit Prof. Utomi.