The live show of Season 7 of the Nigeria Idol will start on Sunday evening (March 20) on Africa Magic Channel 197 on Dstv and Channel 29 on Gotv with the Top 12 contestants set to serenade the judges and viewers alike reports Prime Business Africa.
The voting lines will also open on Sunday with the singers to be voted  for on the African Magic website until Wednesday evenings each week leading up to the finale of the competition.
Below are the songs choices of the budding artistes according to Multichoice's website after they emerged from the last round of Solo performances by the Top 35 in the competition.
The show ends on 22 May 2022.
Abigail – Rain On Me
Abigail will be performing Lady Gaga's single 'Rain On Me' which was released in 2020 from her Chromatica album.
Banty – Thinking Out Loud
Banty is going to be loud in her thoughts as she performs Ed Sheeran's 'Thinking Out Loud'. The single was one of the viral tracks from Ed Sheeran's second album X.
David Operah – Before You Go
David Operah will be performing Lewis Capaldi's 'Before You Go'. The single is from Lewis' 2019 album Divinely Uninspired To a Hellish Extent.
Debby – Monalisa
Debby is going to be keeping it fresh with the hit Naija tune 'Monalisa' by Lojay and Sarz from the album LV N ATTN.
Faith – Driver's License
Faith is going to be in the driver's seat of her performance as she dishes the tune to Olivia Rodrigo's "Driver's License" from the album Sour.
Gerald – Leave The Door Open
Gerald will definitely try to give a silky smooth performance of Silk Sonic's 'Leave The Door Open' from the album An Evening With Silk Sonic.
Itohan – Shallow
Itohan will be performing the song 'Shallow' by Bradley Cooper and Lady Gaga which comes from the original soundtrack of the movie A Star is Born.
Joel – Easy On Me
Joel is going to be taking things easy as he performs Adele's 'Easy On Me' from her album 30.
Jordan – Rolling In The Deep
Jordan will also be rolling with Adele this Sunday as he performs her smash hit 'Rolling in The Deep' from the album 21.
Precious – Felony
Even though she isn't a felon, Precious will be rocking the stage with CKay's single 'Felony' from his EP Boyfriend.
Progress – Heartbreak Anniversary
Progress will be giving it his all on stage with Giveon's 2020 single 'Heartbreak Anniversary' from the EP Take Time.
Zadok – Perfect
Another Ed Sheeran single will be performed on stage thanks to Zadok, who will be singing the song 'Perfect' from Ed's 2017 album Divide.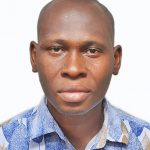 Izuchukwu Okosi is a Nigerian sports and entertainment journalist with two decades of experience in the media industry having begun his media journey in 2002 as an intern at Mundial Sports International (MSI) and Africa Independent Television (AIT), owners of Daar Communications Plc.
In October 2004, Okosi joined Complete Communications Limited, publishers of Complete Sports newspaper and Complete Football magazine as a reporter and later script writer for the Complete Sports studio.
He worked there for 13 years until October 2017.
Okosi also worked various times as Correspondent, Content creator and Editor at Sports Market International Magazine, Opera News, All Nigeria Soccer Media and Iconic Media Watch.
He also undertook freelance writing gigs for some local and international organizations.
Okosi is a member of the Actors Guild of Nigeria (AGN), Association of Movie Producers (AMP), Association of Voiceover Artistes of Nigeria (AVOA), Sports Writers Association of Nigeria (SWAN) and Nigeria Union of Journalists (NUJ).
He has been part of cast in some Nollywood movies and radio dramas including Blood Money 2, Scores To Settle, Dead End 2, Another Campus Tale and Battle Line.
Aside mainstream media and the entertainment industry, he has interests in scouting/unearthing of talents in the sports and creative sectors, exports business and property development.