The Confederation of Africa Football, CAF announced on Monday that Sao Tome and Principle has been disqualified from participating in the 2023 Africa Cup of Nations qualification campaign after the island country of Central Africa were found guilty of fielding an illegible player during the last preliminary match against Mauritius.
The Mauritius Football Association had lodged a complaint that Sao Tome's Luis Leal had not followed the Confederation of African Football's (CAF) Covid-19 protocol.
Mauritius claimed the Bolivia-based striker was not eligible to play against them because his PCR test dated more than 72 hours before the match while according to the protocol, the tests must date from 48 hours.
The 34-year-old scored the only goal in the first leg of their play-off but that result was overturned on Sunday by Caf's disciplinary committee – with Mauritius awarded a 3-0 win instead.
The second leg of the tie, which saw both matches played in Mauritius, ended in a 3-3 draw that originally saw Sao Tome progress 4-3 on aggregate.
The African football governing body acceptedt the complaint of the Mauritian side and added both countries to draws in April 19th.
Sao Tomé was found guilty and fined 10,000 dollars as CAF granted a score of 3 to 0 in favour of Mauritius for the first leg against Sao Tomé which saw Mauritius progress to the Group Stage of Qualifiers 6-3 on aggregate.
Mauritius is in group A alongside Nigeria, Sierra Leone and Guinea Bissau which will also be the first opponent of the Mauritius team in the coming weeks.
Credibility and transparency is our DNA at Prime Business Africa'. We strongly believe in the role of media as a watchdog of the society that powerfully promotes accountability and transparency in government.
By contributing to Prime Business Africa, you are helping to sustain good journalism and making sure that it remains free to all.
Support Investigative Journalism and Mentorship
Courageous Journalism of Truth,Transparency and Development is in the DNA of Prime Business Africa; By donating as little as N1000 or $1 today, you are helping to keep credible journalism and life-changing information free for all.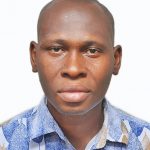 Izuchukwu Okosi is a Nigerian sports and entertainment journalist with two decades of experience in the media industry having begun his media journey in 2002 as an intern at Mundial Sports International (MSI) and Africa Independent Television (AIT), owners of Daar Communications Plc.
In October 2004, Okosi joined Complete Communications Limited, publishers of Complete Sports newspaper and Complete Football magazine as a reporter and later script writer for the Complete Sports studio.
He worked there for 13 years until October 2017.
Okosi also worked various times as Correspondent, Content creator and Editor at Sports Market International Magazine, Opera News, All Nigeria Soccer Media and Iconic Media Watch.
He also undertook freelance writing gigs for some local and international organizations.
Okosi is a member of the Actors Guild of Nigeria (AGN), Association of Movie Producers (AMP), Association of Voiceover Artistes of Nigeria (AVOA), Sports Writers Association of Nigeria (SWAN) and Nigeria Union of Journalists (NUJ).
He has been part of cast in some Nollywood movies and radio dramas including Blood Money 2, Scores To Settle, Dead End 2, Another Campus Tale and Battle Line.
Aside mainstream media and the entertainment industry, he has interests in scouting/unearthing of talents in the sports and creative sectors, exports business and property development.