As the Federal Government through the Ministry of Aviation, pushes to commence operations of Nigeria Air, experts in the industry have described the project as a ruse solely orchestrated to hoodwink Nigerians.
They said that given the process adopted in executing the project, Nigeria does not have a national carrier yet but at best " a ceremonial aircraft" that would later be dumped somewhere or smuggled out of the country once the current administration expires.
Recall that the Aviation Minister, Hadi Sirika, had on Wednesday announced that an aircraft for Nigeria Air would arrive in the country on Friday (today) ahead of the commencement of operations.

Sirika had at an aviation stakeholder's forum in Abuja in March promised that Nigeria Air will begin full operations before the end of President Buhari's administration.
READ ALSO: Nigeria Air: AON Writes Buhari, Alleges Plan By Sirika To Disobey Court Order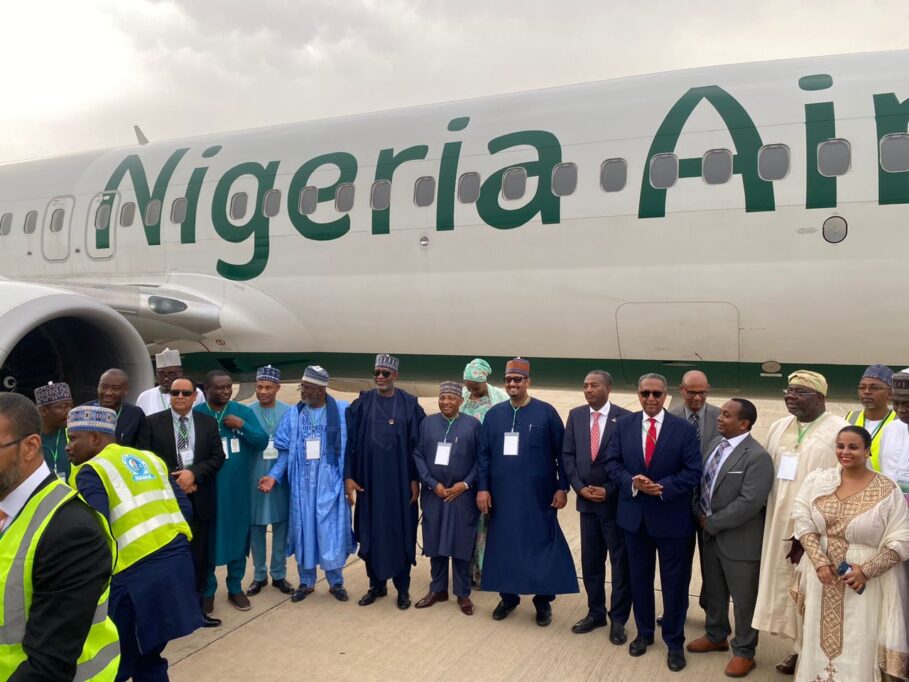 Apparently, insisting on that declaration, Sirika while speaking in an interview with Channels Television, had said, "Nigeria Airplane will land in Nigeria as part of the processes to commence operation. We will on that day unveil this aircraft, the delivery and everything in Nigeria's colours, belong to Nigeria Air and we will proceed to go and do the retrofit and bring back those airplanes."
Reacting to that, former commandant of the Murtala Mohammed International Airport, Lagos, Group Captain John Ojikutu (rtd), in an exclusive interview with Prime Business Africa, said with what is happening, Nigeria does not have a national carrier yet.
Capt Ojikutu said that currently Nigeria Air has no Air Operating Certificate (AOC) and cannot operate without it.
The Nigeria Civil Aviation Authority (NCAA) is the agency responsible for issuing AOC to airlines to operate in Nigeria airspace.
The Federal High Court sitting in Lagos had in April while ruling on a suit filed by the Airline Operators of Nigeria (AON), barred NCAA from issuing Nigeria Air the AOC. The court order prohibits any further steps from being taken regarding the launch of the carrier.
The plaintiffs are in court to prevent the partnership between the Nigerian government and Ethiopian Airlines in which the Federal Government wants to sell its 49 per cent stake to a foreign operator.
Ojikutu, who is the CEO of Security and Safety Consults, said bringing in an aircraft does not mean you have an airline or a national carrier already. He said NCAA can allow the aircraft to fly within Nigeria but not international or regional routes.
The Aviation Security Consultant said: "When you get an aircraft that is going to fly in Nigeria's airspace, then you have an airline. You are going to talk to the NCAA and get an AOC, to determine which country is it going to fly to. What are the international routes? Anybody can bring in an aircraft."
"Unless I see the aircraft in this country filling a flight plan, and saying it is going international and carries Nigerians as passengers then you have an airline. But not just bring in an empty aircraft here, paint it, and say it is Nigeria Air," he averred.
He faulted the government's partnership with Ethiopian Airlines saying any arrangement that is not originating from the country and does not enlist the participation of indigenous stakeholders, can't be called a national carrier.
He accused the minister of using his office to influence aviation regulatory agencies in the country to achieve his purpose.
"The only regulatory agency we have in Nigeria is the NCAA. So, if the minister is not allowing the NCAA to work then we have ourselves to blame. All these things he is doing he hasn't got the power. He has taken away the powers from the various agencies. He has virtually taken away the power from the NCAA; that's not it. If I were in NCAA I won't issue any paper and if it hasn't gotten any paper, no country would allow it. Let me tell you, that aircraft will not fly any international flight in the next six months, mark my word. They will just pack it there until they move out of office," Ojikutu said.
He stated that it is a waste of government resources in setting up a national carrier because it won't be properly managed. He advised that the government should instead, support domestic private airlines and make them flag carriers.
"Right now I am not supporting national carrier again. Let us have flag carriers because anybody who enters government wants to start this issue of using the national carrier to steal money out of the country. Let us have flag carriers. We don't need national carriers for now. We have wasted government resources on airlines. We have no national carrier that comes into the country from outside; it must fly from Nigeria to outside the country, not bringing in an aircraft; that is not a national carrier."
He said every American airline that is flying today is a flag carrier, not a national carrier, and each of them is listed in the stock market to enable people to buy shares so that the company does not belong to only one person but many and boosts their equity financing.
Also reacting to the development, an Aviation analyst, Olumide Ohunayo, in a chat with Prime Business Africa said the project is bound to fail because it was conceived on a faulty foundation, adding that funds spent on it are considered a waste.
Ohunayo, who is the Assistant Secretary General, Aviation Safety Round Table Initiative, called for a probe of the fund used for the project.
He also faulted the partnership between Nigeria and Ethiopian Airlines on the national carrier project. According to him, Ethiopian Airlines is partnering with about five African countries and none among all of them has domestic airlines operating which explains why they entered the partnership in the first place to act as a carrier for them.
He maintained that Nigeria is not like those countries with such partnerships as the domestic airlines are offering air services.
He also called on the government to support the existing airlines to become flag carriers.
READ ALSO: Sack Of FAAN MD, Rabiu Yadudu, Others, Enmeshed In Nigeria Air Dispute
"The problem with the government right now is that anytime an airline is designated to fly outside, it does not support them. Once an airline is given a designation to fly to any country, outside Nigeria, the airline becomes your flag carrier. On that base, all government paraphernalia supports are supposed to be behind that carrier. It doesn't have to be owned by the government. None of the airlines operating in the U.S. is owned by the U.S. government, neither is any owned by the British government, but there is that support for them to be operating in their air space and that's what we've been lacking," Ohunayo stated.
The analyst maintained that the airline has no basis to operate because it has no AOC and there is also a pending court case restraining it from taking off.
"The Nigeria Air project is a failed one and we need to recover all funds that have been has been used on that project.
"The Nigeria Civil Aviation Authority is to give the AOC. The Nigeria Air has not completed the five steps required for the AOC and it is not yet entitled to an AOC."
"Bringing in an aircraft into Nigeria and attempting to start a flight operation is completely a contempt of court. There is a court order at the moment asking the status quo to remain pending the determination of the suit. So, I don't know what he is doing. Does that mean that Nigeria doesn't respect court orders again?", he queried.
He further accused handlers of the project of selecting in a skewed manner, people sent out for pilot training, adding that it was not inclusive enough and challenged the minister to make public, the names of the trainees.
Ohunayo, therefore, urged the incoming government to stop the Nigeria Air project, and investigate every activity relating to it.