President Muhammadu Buhari on Tuesday said the new Customs Act which he recently signed into law will enhance the efficiency and effectiveness of customs management, stressing that it is a testament to his administration's commitment to fostering a business–friendly environment, attracting investments, and driving economic growth.
The President declared this while commissioning the new Customs headquarters building named CUSTOMS HOUSE in Maitama Abuja.
According to a statement by the president's media aide, Garba Shehu, Buhari said he had always recognized the critical role of Customs as an instrument of economic prosperity and overall development of the nation.
His words: "We are all aware of the challenges faced by our Customs Service, particularly the issue of fragile borders that provide opportunities for illicit activities. The recent increase in transnational crimes, smuggling, and security threats necessitates the need for a robust and agile customs administration. I am fully cognizant of these challenges and the urgent need to address them."
"I am pleased to highlight that in line with our commitment to enhancing the efficiency and effectiveness of our customs administration, I recently signed the Customs Bill into law. The new Act, which is a product of extensive consultations and deliberations, represents a significant step towards modernizing our customs operations, strengthening regulatory frameworks, and promoting trade facilitation. It is a testament to our commitment to fostering a business-friendly environment, attracting investments, and driving economic growth," Buhari stated.
The president commended the Comptroller-General of Customs, Col Hameed Ibrahim Ali (Rtd) for delivering the mandate issued to him in 2015.
"Over the years, he has earned my trust and support through his selfless service, and relentless pursuit of excellence without compromising his personal integrity. It is my hope that his leadership style has inspired a new crop of Customs leaders and Managers, driven by a strong desire to serve their fatherland while upholding the virtues of transparency and honesty," the President added.
In her remarks, the Minister of Finance, Budget and National Planning, Zainab Shamsuna Ahmed who doubles as the Chair of the Board of the organisation, the edifice stands as a symbol of the unwavering commitment to enhancing the operations of the Nigeria Customs Service and its readiness to tackle the challenges of the 21st century. She added that the Board had ensured that the welfare of the service was taken seriously.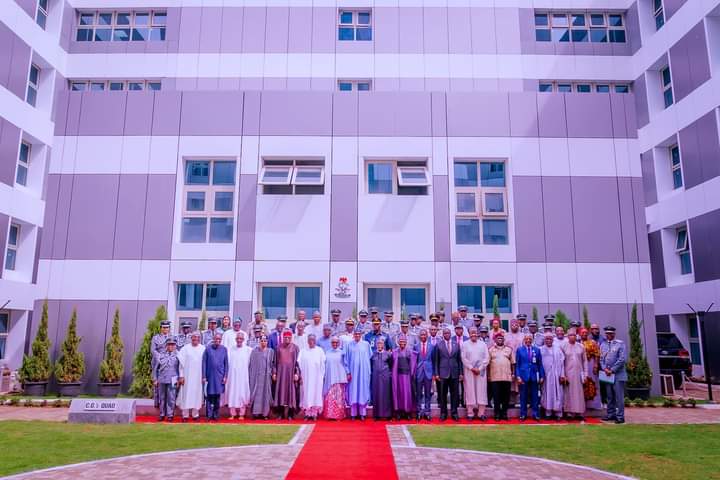 The Comptroller General announced that the building was completed at the cost of N19.6 billion. He also thanked the President for his recent signing of the Nigeria Customs Bill into law.
According to Col. Ali, "The landmark legislation represents a significant achievement for the Nigeria Customs Service and the entire nation. It provides us with a comprehensive legal framework that aligns with international best practices, strengthens our regulatory capabilities, and fosters trade facilitation."
He also commended President Buhari for his support of the Customs Modernisation Project which aims to modernize all aspects of Nigeria's Customs Service operations through the innovative use of technology.