It's not strange to hear of people utilizing their friend or family member's Netflix account. In fact, as multiple people are able to be logged in at the same time, sharing passwords was a relatively problem-free way to access the streaming service for quite some time.
However, Netflix recently announced plans to stop the password sharing culture, and the entire situation sparked quite a bit of backlash on social media.
The new guidelines recently made their debut on the streaming service's website. Setting the tone, the very top of the guidelines page explicitly reads, "A Netflix account is for people who live together in a single household."
Netflix goes on to note that, when a user attempts to log in to an account outside of the primary household, verification may be needed. This verification will send a link with a 4-digit code to the primary account owner's email, and this code must be entered in order to watch Netflix from the device in question.
READ ALSO: Movies And Shows Coming To Netflix This February
Additionally, it's noted that "verification may be required periodically." While this would certainly pose an issue for people using others' accounts, it'll also impact subscribers when they attempt to use Netflix while travelling.
These new guidelines definitely stirred a lot of reactions on social media, Twitter especially. More outrage came about after a tweet from 2017 resurfaced, showing how much Netflix's outlook has changed over the years. Netflix hopped on a trend at the time and tweeted, "Love is sharing a password."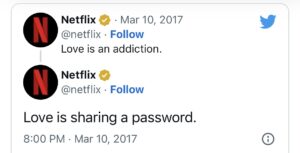 "Cancel Netflix. They just lost my business. "Password-sharing" is not a thing, it's called password-using. This is regressive bullshit borne out of capitalist greed to squeeze more money out of us. People paid for a password and they use it wherever they go". Fifty Shades of Whey, a Twitter user said.
READ ALSO:Yul Edochie Shares Trailer To New 'Peter Obi' Movie, Gets Mixed Reactions
Another User, maleficent said, "Not only is Netflix's new password sharing rules deplorable, there are so many ways it can prevent people who live in the same house from being able to access their own Netflix, you shouldn't have to jump through hoops to use your own service".
What do you think about Netflix's new password sharing guidelines, and would you still be keeping your subscription?
Support Investigative Journalism and Mentorship
Courageous Journalism of Truth,Transparency and Development is in the DNA of Prime Business Africa; By donating as little as N1000 or $1 today, you are helping to keep credible journalism and life-changing information free for all.