The Central Bank of Nigeria (CBN) has denied that it received presidential orders to reissue the old N500 and N1000 naira banknotes.
The denial was in response to a press release purportedly released by the CBN and circulating on social media, to the effect that President Muhammadu Buhari has approved the recirculation of old N1,000, and N500 notes as legal tender.
The press release reads: "Due to the current and unpleasant situation happening in Nigeria, in line with Mr. President after having a close meeting with him on 20th February 2023, Central Bank of Nigeria has been directed to ONLY reissue and recirculate the old N200, N500 and N1000 banknotes and this is expected to circulate as legal tender for 70 days up to May 1, 2023…"
However, the CBN in a statement signed by its Director, Corporate Communications Department, Osita Nwanisobi, posted on its verified Twitter handle on Tuesday,  described the statement as "a fake press release."
The apex bank said the president didn't issue such a directive, maintaining that only the N200 naira old notes would continue to circulate alongside the new ones for 60 days.
The statement reads: "The attention of the Central Bank of Nigeria has been drawn to some fake and unauthorized messages quoting the CBN as having authorized the Deposit Money Banks to collect the old N500 and N1,000 Banknotes," the statement said.
"For the avoidance of doubt, and in line with Mr. President's broadcast of February 16, 2023, the CBN has been directed to only reissue and recirculate the old N200 banknotes and this is expected to circulate as legal tender for 60 days up to April 10, 2023. Members of the public should therefore disregard any message and/or information not formally released by the Central Bank of Nigeria on this subject.
"Media practitioners are advised to please verify any information from the correct sources before publication."
READ ALSO: The Trouble With CBN's Conflicting Orders On Naira Policy – CPPE
Prime Business Africa reports that CBN's statement comes a few hours after the wife of the Nigerian President, Aisha Buhari, shared a fake circular from the CBN in which the apex bank ordered the recirculation of the old Naira notes until May 10.
Aisha Buhari was among the first set of people to post on her official social media handles, both Facebook and Instagram, applauding the move.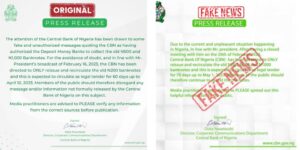 Support Investigative Journalism and Mentorship
Courageous Journalism of Truth,Transparency and Development is in the DNA of Prime Business Africa; By donating as little as N1000 or $1 today, you are helping to keep credible journalism and life-changing information free for all.