Nigerian music sensation, Azeez Fashola, popularly known as Naira Marley, has witnessed a significant drop in his Instagram followers, losing a staggering 500,000 within one week.
This unexpected plunge in his online popularity stems from the cloud of controversy surrounding the tragic passing of his former protégé, Mohbad.
Naira Marley's social media ordeal commenced with damning allegations linking him and his associate, Sammy Larry, to the untimely demise of Mohbad.
There are allegations that they had subjected the young artist to a series of emotional and physical torment after he departed from the Marlians record label, a grim narrative that has sparked public outrage.
READ ALSO: From Music To Politics: Unraveling The MohBad Controversy
At the outset, when Mohbad passed away on September 12, 2023, Naira Marley boasted around 7.5 million devoted Instagram followers.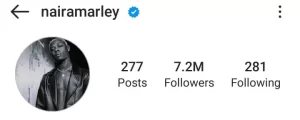 However, as allegations of his involvement in the tragedy began to circulate, his follower count spiralled downward, dwindling to 6.9 million as it stands today.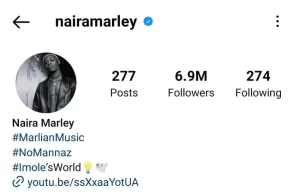 The widespread decision to boycott Naira Marley, his music, and his record label sprung from the fervent grievances of Mohbad's ardent fans. These passionate supporters did not hold back their contempt for Marley, vocally expressing their disappointment in the comment sections of his posts.
Across social media and during peaceful protests, they clamoured for justice for the late singer.
In response to the mounting pressure, Naira Marley issued a press release through his label, vehemently denying any wrongdoing and emphasizing his deep affection for Mohbad, whom he regarded as a brother.
He joined the chorus demanding justice for his former protege and changed his Instagram profile picture to that of Mohbad as a tribute. Despite his efforts, a significant portion of the public remained unconvinced, with many insisting on his arrest and thorough interrogation, alongside his associate Sammy Larry.
READ ALSO: Mohbad's Death: Other Artistes Who Had Long-Standing Battles With Their Label Bosses
In light of the escalating controversy, the Nigerian police force has officially initiated an investigation into the circumstances surrounding Mohbad's sudden demise.
Additionally, they have sought the expertise of the chief coroner to conduct an autopsy, aimed at determining the true cause of the young artist's tragic passing.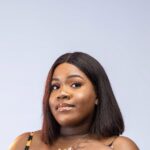 Somto is an Entertainment Reporter with a passion for uncovering the latest stories in the world of entertainment. As a dedicated journalist, Somto delivers in-depth reporting, exclusive interviews, and breaking news coverage.
She covers a wide range of topics, from celebrity interviews to industry trends and film reviews.
As an Entertainment Reporter for Prime Business Africa, She continues to provide comprehensive and insightful coverage of the entertainment industry, offering readers an insider's perspective on the latest developments and trends. She is a trusted source for breaking news, exclusive interviews, and thought-provoking analyses.
Somto is dedicated to providing valuable information and entertainment to her audience while upholding the highest standards of journalistic integrity.
Follow Somto on social media:
LinkedIn: Somtochukwu Bisina
#EntertainmentReporter #MediaProfessional #Journalism