Professor Mojisola Christianah Adeyeye, the Director-General of the National Agency for Food and Drug Administration and Control (NAFDAC), has revealed a startling discovery regarding the illegal importation, sale, and distribution of Crusader soaps containing mercury within the country.
At a press briefing on Friday, September 15, Professor Adeyeye began by unveiling the sinister activities of a well-organised syndicate.
She said: "This group, operating under the radar, specialized in smuggling banned Crusader soaps infused with mercury into Nigeria. To evade scrutiny, they employed forged customs documents, successfully bringing these hazardous products into the country."
"Shockingly, NAFDAC's investigation uncovered that the banned Crusader soap was imported a staggering seven times in 2021 alone. Each shipment consisted of no less than three containers, each filled with four thousand, five hundred cartons of the toxic soap. These dangerous products had infiltrated various supermarkets and cosmetics shops, deceiving unsuspecting consumers." she said
READ ALSO: NAFDAC Tackles Decline In Pharmaceutical Imports, Promotes Local Production
In a breakthrough moment for NAFDAC, Acting on a tip-off in August 2023, the Investigation and Enforcement (I&E) Directorate busted a warehouse located in the Trade Fair Market. Inside, they found a treasure trove of banned imported soaps, totaling three trailer-loads, including Crusader medicated soap and Mekako soap, amounting to a shocking 4,000 cartons by 12 packs by 12 tablet soaps. Additionally, several suspects were apprehended in connection with this illicit operation.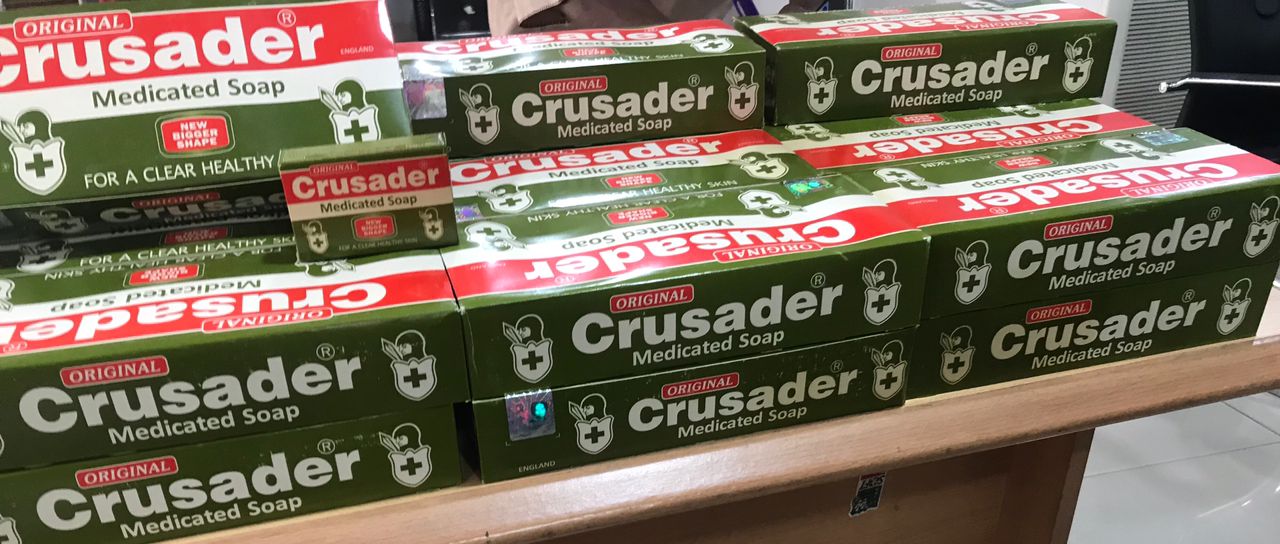 The street value of the confiscated products amounted to approximately one billion naira, underscoring the scale of the problem. Remarkably, this success came after three failed attempts, as the syndicate, with its network of informants, continuously shifted the soap consignments to different locations in Lagos to evade detection by the determined NAFDAC investigation and enforcement team.
During the interrogation of the prime suspect, Chief Peter Obih (alias Ogbuagu), a disturbing revelation emerged. He claimed to have purchased the franchise for the product from a company and presented an expired NAFDAC certificate that had been issued for local manufacturing, despite no such production taking place in Nigeria since the supposed registration in 2013.
Laboratory analysis of a product sample exposed its harmful content – heavy metals identified as mercury. Shockingly, the Crusader soap was falsely labeled as "Made in England" to deceive consumers, while its actual source was traced back to India.
These actions flagrantly violated NAFDAC's regulations and the Agency's Acts, including the Cosmetic Products (Prohibition of Bleaching Agents) Regulations 2019. The arrested suspects will face legal action, while an intensified manhunt is underway to apprehend other fleeing members of the syndicate.
Professor Adeyeye also highlighted the global concern surrounding the presence of mercury in cosmetics, emphasizing the health risks it poses to individuals and the environment. The Minamata Convention on Mercury, a World Health Organization (WHO) initiative, underscores the gravity of the issue. Nigeria, a signatory to the convention, is required to have banned the manufacture, import, and export of mercury-containing cosmetic products since 2020.
Furthermore, Professor Adeyeye urged the public to be vigilant when purchasing cosmetics. "Mercury-containing products are often marketed as skin lighteners and anti-aging treatments and can be found online and through mobile applications. Mercury is considered one of the top ten chemicals of major public health concern by WHO."
"The health hazards of mercury-containing cosmetics extend not only to those who use them but also to their families, who may be exposed to mercury vapor or contaminated items such as washcloths and towels."
How To Detect potentially harmful products
The Director-General provided crucial tips for identifying potentially harmful products, such as checking for NAFDAC registration, scrutinizing ingredient lists, and avoiding products with labels in languages other than English without English interpretation. She also emphasized that all soaps and detergents are banned from importation into Nigeria.
In her closing remarks, Professor Adeyeye assured Nigerians that NAFDAC would relentlessly pursue its mission to ensure that only quality, safe, and efficacious medicines, wholesome foods, and cosmetics of the highest standard are available in Nigeria. The public was encouraged to report any infractions to the nearest NAFDAC office.