By Chimara Bygold
VICE President Yemi Osinbajo, the Governor of the Central Bank of Nigeria (CBN), Godwin Emefiele and the Lagos State Governor, Babajide Sanwo-Olu, on Friday, made a strong case for increase in investments in the health sector to curb about N6 billion spent on medical tourism yearly.
The trio made the call in Lagos at the unveiling of Duchess International Hospital, a multi-million-naira state-of-the-art health facility funded by Access Bank Plc. They urged banks to make loans accessible to healthcare investors to provide standard heath facilities, technologies and equipment for quality services to curb medical tourism.

Osinbajo said Nigeria had world-class talents, ideas and other resources required to develop and manage global health facilities if there was sufficient funding, stressing that delivering the highest standards of healthcare would reverse medical tourism.
The VP said investment in healthcare facilities such as Duchess would reverse brain drain in the sector and make the country a destination for medical tourists. He commended Access Bank Plc for funding the project, describing its involvement as courageous.
He said the COVID-19 pandemic has thought Nigeria key lessons, including the danger of neglecting the health sector.
Emefiele, on his part, said over 80 countries took stringent steps like restricting their medical and pharmaceutical supplies from being exported to other countries as necessary measures to cope with the pandemic.
He said it was regrettable that while the global pandemic was ravaging, Nigeria could not produce medical and pharmaceutical supplies such as drugs, hand sanitisers, hand gloves, nose masks and disinfectants but had to depend on other countries, including China and India.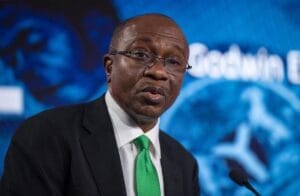 The apex bank's boss queried the sustainability of relying on importation for medical supplies while expressing fear that a bigger pandemic could put the country on the brink if it fails to make necessary investments.
He said poor investment has posed enormous threat to the country's health sector, which parades some of the best brains in global medical circle.  "I want to encourage our banks to lend to them and also members of our private sector community to invest as you don't have to be a doctor to own a medical facility," the CBN Boss stressed.
Emefiele said countries all over the world were investing in their healthcare system to prepare for rising health challenges, warning that Nigeria could not afford to do otherwise.
He said as part of efforts to prepare the country, the apex bank has embarked on policies that would enable banks grant easy loans to private healthcare providers. 
In his remarks, Sanwo-Olu said government needed to restore the trust of the citizens in the domestic healthcare system by creating an enabling environment for health facilities to thrive.
He urged the federal and state governments to make healthcare a priority and increase their budgets for the sector.
The Chief Executive Officer, Duchess International Hospital, Dr. Adetokunbo Shitta-Bey, said about 60, 000 Nigerians spend N6 billion yearly to seek various medical treatments abroad ranging from chronic diseases like diabetes, cardiovascular disease, cancer, minor conditions as well as plastic and reconstructive surgeries.
He said lack of trust, good governance, quality facilities, equipment and expertise in the healthcare industry and inability to meet with international standards were part of the causes of medical tourism in the country.
He called on the private healthcare providers to take the bull by the horn to bridge the gaps in the heath industry and help the country recoup the money lost to medical tourism.
Shitta-bey said: "Healthcare is a major priority across the world and countries are making sure their health industry is the best, which is what we are doing here in the Duchess International Hospital with the state-of-the-art facility and the best of equipment to cater for all the healthcare specialists. We want to ensure every Nigerian have access to affordable and quality healthcare."