On Monday, 6th February 2023 Mr. Eazi took to his Twitter account to call out Latino megastar Bad Bunny for infringing on the intellectual property of EmPawa artist Joeboy.
According to him, Bad Bunny recorded a Joeboy song without going through the standard clearance process with the label and the artist.
"Yo @sanbenito you need to tell your lawyers to stop messing around and clear that Joeboy rip-off on your album," the tweet reads.

Mr. Eazi then proceeded to add a YouTube link to the song in question in another tweet in an effort to eliminate any doubt as to his claim.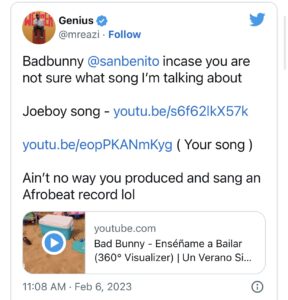 The EmPawa boss didn't restrict his complaints to Twitter as he took to Linkedin to further expatiate on the copyright infringement.
READ ALSO:5 Interesting Facts About Tems
In the post on his Linkedin page, he  complained about the disregard from Bad Bunny and his label over their failure to clear the song. He further shared that he found their actions to be disrespectful and condescending.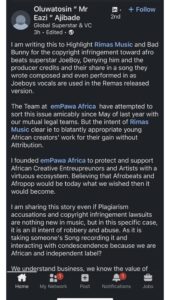 In August 2019, Mr Eazi launched emPawa Africa, a talent incubation initiative designed to nurture and support up-and-coming African artists. Thirty musicians would be enrolled in the first edition and would receive grant and mentorship to scale up their music career. The initiative is also supported by You Tube Music.
As of the time of filing this report, Bad Bunny's team is yet to reply to the accusations.
Prime Business Africa will continue to monitor the situation and bring you all updates as they unfold.