At a time when governments at various levels appear incapable of dealing with the development challenges of various communities in Nigeria, non-governmental organisations have taken the lead in social work for human welfare. One of them founded by Muhydeen Okunlola Kayode (MOK), based in Offa, Kwara State, has over the years focused on alleviating the sufferings of the less privileged individuals.  In this interview, with Prime Business Africa, Kayode, a certified Quantity Surveyor and the Principal Partner, Luxiar Construction Limited speaks on the reasons behind his philanthropic gestures done through the MOK Foundation which was coined from the initials of his name.
What is the philosophy behind MOK foundation?
MOK Foundation coined from my name, Muhydeen Okunlola Kayode, was founded with such a sincere and compassionate purpose. I believe in the power of collective actions to bring about positive change. This highlights the foundation's potential to create lasting impacts and improve the well-being of those who are facing challenging circumstances.
This led me to dedicate my time and money to addressing critical issues like poverty, hopelessness, unemployment, illiteracy, health challenges, security, and hunger. This reflects my strong commitment to making a meaningful difference in people's lives.
How does the Foundation operate?
MOK Foundation operates as a humanitarian organisation, guided by its core values of compassion, solidarity, empowerment, fairness, and long-term development. With an unwavering focus on enhancing human welfare, the foundation is committed to advancing the overall well-being of humanity.
This underlying philosophy highlights the foundation's resolve to generate enduring positive effects by tackling essential concerns and promoting constructive transformations within communities.
Can you share the impact made?
 My focus is on my local community, Offa as I believe in paying back to society and I believe in Zakat (almsgiving) to the needy. This year, we installed solar light panels in Owode market and have partnered with three Primary Health Centres (Olomowewe, Lamodi and Abogunugun) in Offa, Kwara State.
Why did you decide on the project at this time?
My unwavering dedication to enriching and empowering lives, together with the desire to eliminate these significant deprivations, served as the driving force for establishing the foundation.
The goal is to create a positive difference in people's lives and contribute to the betterment of the community by focusing on critical areas of need such as poverty, hopelessness, health issues, unemployment, security, illiteracy, and hunger.
Can you describe the specific challenges of the NGO and what you believe needs to be done to effect change?
As an NGO, the MOK Foundation faces various challenges, including restricted funds, difficulties with logistics, building trust within communities, and adapting to unpredictable circumstances.
With a goal of making a difference, we are committed to expanding funding streams, simplifying operations, establishing open communication with communities, and remaining adaptable to new challenges to address constantly changing needs.
By remaining persistent, devoted, and unwavering in our dedication to the organisation's values and goals, we can overcome any challenges and have a lasting impact. We invite others to join us in making the world a better place for everyone.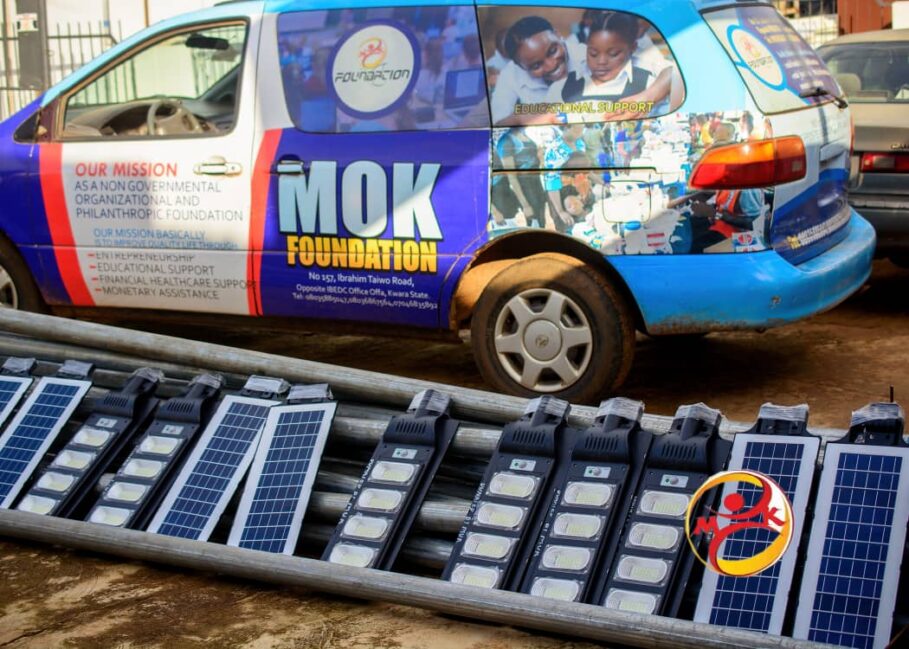 To what extent would you collaborate with governments and community leaders in your actions?
We are enthusiastic about the prospect of forging partnerships with governments and community leaders in the future, as it is integral to maximizing the effectiveness of the Foundation's endeavors.
By combining resources, sharing specialized knowledge, and orchestrating our actions in tandem, the foundation can construct a more cohesive and potent approach to tackling the identified issues.
This collaborative approach significantly strengthens the potential for generating positive and long-lasting transformations within the community.
NGOs are often accused of cutting corners for pecuniary interests, how is MOK different in this regard?
MOK Foundation stands apart by prioritising transparency, integrity, and the genuine betterment of the community over any pecuniary interests.
We ensure that our actions are consistently aligned with our values, and we maintain an open and accountable approach to all our initiatives. By upholding these principles, we aim to build trust, inspire confidence, and truly make a difference without compromising our mission for financial gain.
Therefore, MOK Foundation is different from NGOs that cut corners for financial gain, as it does not have any financial interests and operates transparently.