Research has over the years proven to be an invaluable source of generating knowledge, therefore combining different approaches known as mixed-method, is not just the newest trend in social science, but the best way to study complex human behaviour in these global, multicultural and interconnected disciplines, said Prof Charles Okigbo, an Emeritus Professor of Strategic Communication at the North Dakota State University.
He made this observation in his opening remark to flag off the maiden edition of the 'Knowledge Hub', a brand of the Jacksonites Professional Development Series (JPDS) on 1st July 2022.
The webinar series is dedicated to building top scholars starting from across Sub-Saharan Africa to the world at large.
Okigbo explained that mixed methods research approach is not an arbitrary combination of research methods but "the measured, reasoned and strategic combining of qualitative and quantitative research methods in one study or a group of studies to achieve better results than when we use either type of data alone."
He further clarified that contrary to what one may think, mixed methods would not necessarily be more tedious or time-consuming but a research approach that leads to a more comprehensive study on any subject.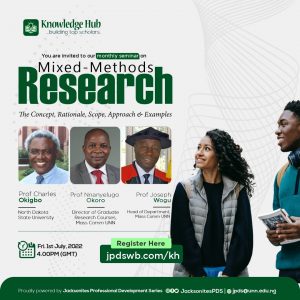 Similarly, President of the Jacksonites Worldwide, Prof Pat Utomi said remarked that in the light of the multifaceted nature of social problems, politics, ethics and morality, researchers who are not versed in appropriate research methods for the best result would be challenged.
Utomi applauded the JPDS steering committee for the new Knowledge Hub brand and noted that the 6-part seminar series focused on mixed methods research "is coming at a very very important time in the history of communication for a civilized experience."
In his presentation on the evolution of Mass Communication in the University of Nigeria, Nsukka, the Head of Department, Prof Joseph Wogu, represented by Mr. Uchechukwu Jonathan Eze, the department hitherto named 'Jackson College of Journalism', was established in 1961 with the goal of training capable journalists to fill the gap in workforce created by the exodus of foreign journalists from the country.
According to him, at its inception, the department had only Mr L. Orol as the Head of the Department and the only academic staff who taught the students who qualified at that time and has raised millions of graduates from its first 4 graduates in 1965 with former minister of information, Tony Momoh as one of the pioneer students.
In a related development, the Director of Post Graduate Research Courses, Prof Nnanyelugo Okoro, represented by Ms. Francisca Ogbobe stated that numerous opportunities abound in postgraduate studies and that funding is not a limitation as there are many funding organisations for postgraduate studies both in Nigeria and abroad.
Although there are numerous challenges associated with postgraduate studies, Prof Okoro pointed out that with the availability of open access to knowledge, research and postgraduate studies have become a lot easier than in the past. He recommends installing digital learning facilities to make teaching and research a lot easier.
In her closing remark, Chairperson of the Jacksonites Professional Development Series Steering Committee, Prof Chinedu Mba of the Algonquin College, Ottawa, Canada noted that the event is the first in the 6-part series of seminars on mixed methods research under the Knowledge Hub brand of the JPDS which is "committed to building top scholars." She applauded participants and resource persons and announced that the next edition on Action Research is scheduled for 5th August 2022.
The event, moderated by Dr Chuks Odiegwu-Ewerem of the National Open University, Abuja, was attended by postgraduate students, scholars and professors across Nigeria and beyond.
Ifeanyichukwu Dinwoke (@ijdinwoke)