By Izuchukwu Okosi
Nigeria's representative at the ongoing Miss Universe beauty pageant Maristela Okpala has sent social media wild with her choice of costume on Sunday morning.
The 2021 pageant is the 70th edition of the event.
Okpala paid homage to a female masquerade from the southeastern Igbo part of Nigeria called Mmanwa which literally means 'The beauty of a child."
The 28 year old Okpala from Anambra state donned a creation inspired by the masquerade and she revealed that the outfit is made of African beads, stones, and crafts.
On why she chose the costume, Maristela said she sees a reflection of her purpose in the masquerade Mmanwa who protects children and women against any form of abuse.
Maristella explained that Mmanwa is a female masquerade costume that's designed for ceremonial and festive purposes to celebrate the rich cultural heritage in Nigeria while paying a closer attention to the strength women posses.
She wrote on her social media handles:
"The 3ft tribal mask with the colorful ancient back cape. With Mmanwa's Face boldly crested on the mask and cape.
"It represents the beautiful Mmanwa who fought tirelessly to stop girl child mutilation and child slavery while the colorful patterns and embellishments portrays the african dashiki which offers a visual appeal and forms meant to invoke the ancestral spirits."
The beauty pageant is holding at the Universe Dome, Port of Eilat in Eilat, South District, Israel with Nigeria, South Africa, Cameroon and Ghana representing Africa.
Credibility and transparency is our DNA at Prime Business Africa'. We strongly believe in the role of media as a watchdog of the society that powerfully promotes accountability and transparency in government.
By contributing to Prime Business Africa, you are helping to sustain good journalism and making sure that it remains free to all.
Support Investigative Journalism and Mentorship
Courageous Journalism of Truth,Transparency and Development is in the DNA of Prime Business Africa; By donating as little as N1000 or $1 today, you are helping to keep credible journalism and life-changing information free for all.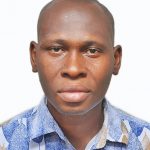 Izuchukwu Okosi is a Nigerian sports and entertainment journalist with two decades of experience in the media industry having begun his media journey in 2002 as an intern at Mundial Sports International (MSI) and Africa Independent Television (AIT), owners of Daar Communications Plc.
In October 2004, Okosi joined Complete Communications Limited, publishers of Complete Sports newspaper and Complete Football magazine as a reporter and later script writer for the Complete Sports studio.
He worked there for 13 years until October 2017.
Okosi also worked various times as Correspondent, Content creator and Editor at Sports Market International Magazine, Opera News, All Nigeria Soccer Media and Iconic Media Watch.
He also undertook freelance writing gigs for some local and international organizations.
Okosi is a member of the Actors Guild of Nigeria (AGN), Association of Movie Producers (AMP), Association of Voiceover Artistes of Nigeria (AVOA), Sports Writers Association of Nigeria (SWAN) and Nigeria Union of Journalists (NUJ).
He has been part of cast in some Nollywood movies and radio dramas including Blood Money 2, Scores To Settle, Dead End 2, Another Campus Tale and Battle Line.
Aside mainstream media and the entertainment industry, he has interests in scouting/unearthing of talents in the sports and creative sectors, exports business and property development.