Manchester United on Monday confirmed that forward, Mason Greenwood, will leave the club by mutual agreement after a six-month internal investigation by the club into his conduct bothering on rape and assault.
Greenwood was arrested in January 2022 following allegations surrounding an explicit material which was published online.
Charges against the 21-year-old England international, including attempted rape and assault, were dropped on 2 February 2023.
United said in a statement: "All those involved, including Mason, recognise the difficulties with him recommencing his career at Manchester United.
"It has therefore been mutually agreed that it would be most appropriate for him to do so away from Old Trafford, and we will now work with Mason to achieve that outcome.
"Based on the evidence available to us, we have concluded that the material posted online did not provide a full picture and that Mason did not commit the offences in respect of which he was originally charged.
"That said, as Mason publicly acknowledges today, he has made mistakes which he is taking responsibility for."
In a statement, Greenwood accepted he had "made mistakes" and took his "share of responsibility", but added: "I did not do the things I was accused of."
The once darling teenage sensation at Old Trafford said: "Today's decision has been part of a collaborative process between Manchester United, my family and me.
"The best decision for us all is for me to continue my football career away from Old Trafford, where my presence will not be a distraction for the club. I thank the club for their support since I joined aged seven. There will always be a part of me which is United.
"I am enormously grateful to my family and all my loved ones for their support, and it is now for me to repay the trust those around me have shown. I intend to be a better footballer, but most importantly a good father, a better person, and to use my talents in a positive way on and off the pitch."
Greenwood, whose contract Old Trafford runs until 2025, could now be sold or loaned to another club for the remainder of his contract.
He remains on full pay but will not return to training with United.
In material published online, a man – alleged to be Greenwood – could be heard shouting at a woman to "move your [expletive] legs up."
The woman responded that she did not want sex, and the man replied: "I don't give a [expletive] what you want, you little [expletive]."
The man then says: "Push me again and watch what happens to you."
Greenwood was charged in October 2022 with attempted rape, controlling and coercive behaviour and assault occasioning actual bodily harm.
Following his arrest, Nike ended its sponsorship deal with Greenwood and Electronic Arts removed him from active squads on its Fifa 22 game.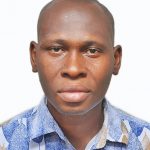 Izuchukwu Okosi is a Nigerian sports and entertainment journalist with two decades of experience in the media industry having begun his media journey in 2002 as an intern at Mundial Sports International (MSI) and Africa Independent Television (AIT), owners of Daar Communications Plc.
In October 2004, Okosi joined Complete Communications Limited, publishers of Complete Sports newspaper and Complete Football magazine as a reporter and later script writer for the Complete Sports studio.
He worked there for 13 years until October 2017.
Okosi also worked various times as Correspondent, Content creator and Editor at Sports Market International Magazine, Opera News, All Nigeria Soccer Media and Iconic Media Watch.
He also undertook freelance writing gigs for some local and international organizations.
Okosi is a member of the Actors Guild of Nigeria (AGN), Association of Movie Producers (AMP), Association of Voiceover Artistes of Nigeria (AVOA), Sports Writers Association of Nigeria (SWAN) and Nigeria Union of Journalists (NUJ).
He has been part of cast in some Nollywood movies and radio dramas including Blood Money 2, Scores To Settle, Dead End 2, Another Campus Tale and Battle Line.
Aside mainstream media and the entertainment industry, he has interests in scouting/unearthing of talents in the sports and creative sectors, exports business and property development.