Manchester City on Thursday announced the contract extension of right back Kyle Walker until the summer of 2026 after what seemed like a certainty that he was headed to Bayern Munich.
Walker's original contract was supposed to come to an end in 2024 but his further two years stay indicate that is unlikely to finish his career abroad.
City's announcement video for Walker's new contract emulates a famous scene from "The Wolf of Wall Street."
The creative video showcases Walker's commitment to the club and includes comedic moments with his teammates and manager, Pep Guardiola.
Walker's contract extension solidifies his place at Manchester City, making it his home for the foreseeable future.
Announcement videos have become a big sensation in the world of football in recent times, and Manchester City have hit the nail on the head with their latest attempt.
Burnley have become the Premier League side best known for their entertaining and creative announcement videos, mainly when bringing in a new signing to the club, but almost every club has decided to get involved in their own way. It is a fine line to walk between entertaining and cringe-worthy.
While there have certainly been some shockers released by various clubs, the majority of announcements hit the mark well and are done in the name of fun. City have smashed this with their recent video in regard to Kyle Walker.
A scene in which Leonardo Di Caprio's character addresses his colleagues with a passionate speech about how he would not leave was used as the inspiration with Walker to start the video with a microphone in hand, and a very smart-looking suit.
There was a slight change made to the English full-back's words in order to keep the video Parental Guidance (PG).
After a long pause, Walker lets out the iconic words: "I'm not leaving. I'm not leaving." There is footage used of his Manchester City teammates – such as Phil Foden and Jack Grealish – watching on nervously before the defender lets out a third passionate:
"I'm not leaving!" Admittedly the clips of Foden and Grealish are edited and have been taken from when City celebrated winning the Premier League, but it's still funny regardless.
Support Investigative Journalism and Mentorship
Courageous Journalism of Truth,Transparency and Development is in the DNA of Prime Business Africa; By donating as little as N1000 or $1 today, you are helping to keep credible journalism and life-changing information free for all.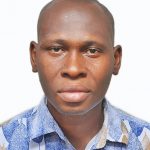 Izuchukwu Okosi is a Nigerian sports and entertainment journalist with two decades of experience in the media industry having begun his media journey in 2002 as an intern at Mundial Sports International (MSI) and Africa Independent Television (AIT), owners of Daar Communications Plc.
In October 2004, Okosi joined Complete Communications Limited, publishers of Complete Sports newspaper and Complete Football magazine as a reporter and later script writer for the Complete Sports studio.
He worked there for 13 years until October 2017.
Okosi also worked various times as Correspondent, Content creator and Editor at Sports Market International Magazine, Opera News, All Nigeria Soccer Media and Iconic Media Watch.
He also undertook freelance writing gigs for some local and international organizations.
Okosi is a member of the Actors Guild of Nigeria (AGN), Association of Movie Producers (AMP), Association of Voiceover Artistes of Nigeria (AVOA), Sports Writers Association of Nigeria (SWAN) and Nigeria Union of Journalists (NUJ).
He has been part of cast in some Nollywood movies and radio dramas including Blood Money 2, Scores To Settle, Dead End 2, Another Campus Tale and Battle Line.
Aside mainstream media and the entertainment industry, he has interests in scouting/unearthing of talents in the sports and creative sectors, exports business and property development.