Nigerian music megastar Burna Boy has broken his silence on the ongoing national elections in Nigeria as he calls on INEC to do the right thing.
On Sunday, 26th February 2023, Burna Boy took to his Instagram account to call on INEC to let the will of the people prevail in the 2023 national elections.
"Let Nigeria decide o! @inecnigeria. No try any result magic," the post reads.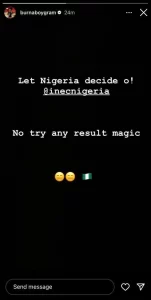 Nigerians went to the polls on Saturday, 25th February 2023 to vote for a new president and National Assembly members.
READ ALSO:#NigeriaDecides2023: Atiku Calls On INEC To Upload Election Result From Polling Units
The elections which have been described as the most important since 1999 have 18 candidates vying to replace the outgoing President Muhammadu Buhari.
The three frontline candidates are the All Progressives Congress candidate Bola Ahmed Tinubu, People's Democratic Party candidate Atiku Abubakar, and the Labour Party candidate Peter Obi.
The election has witnessed allegations of violence, voter harassment and intimidation, and rigging in multiple states.
Burna Boy alongside other artists has been called out on Twitter by some users for their silence during the electoral process. Burna Boy has been in the line of fire, especially as his music often touches on the plight of Nigerians and many expected him to be vocal during the electoral process.
READ ALSO:#NigeriaDecides2023: Labour Party To Challenge Election Results In Court
His last album 'Love, Damini' had a track titled 'Common Person' in which he talk about the lives of the common man in Nigeria. Most of the criticism coming his way stems from the fact that he has failed to walk the talk in the opinion of many listeners.
Burna Boy's statement to INEC is in line with the wish of the well-meaning Nigerians who are calling on the electoral umpire to ensure that the will of the people prevails.
Support Investigative Journalism and Mentorship
Courageous Journalism of Truth,Transparency and Development is in the DNA of Prime Business Africa; By donating as little as N1000 or $1 today, you are helping to keep credible journalism and life-changing information free for all.