Lady Gaga ended Valentine's Day showing off the first look of her role in the "Joker" sequel on her official Twitter account.
The image from "Joker: Folie à Deux" shows Gaga's character in an embrace with Joaquin Phoenix's Joker. Gaga's only comment was the sequel's title. "Folie à Deux" and a joker's hat emoji. The film's Director,  Todd Phillips, posted the same image on his Instagram page with the caption, "Happy Valentines Day."
Gaga worked with Phillips on her starring role in "A Star Is Born," which Phillips produced. Filming for the Warner Bros. "Joker" sequel is underway in New York and Los Angeles, and set October 4, 2024 has been set as the release date, exactly five years after the release of the first film.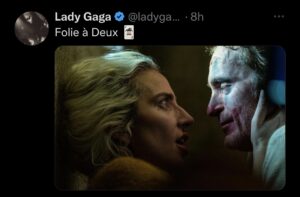 It has not been confirmed what role the singer/actress will be taking on, but a teaser released last year, hints that she may be starring as Batman's villain, Harley Quinn, a character most recently played in several DC movies by Margot Robbie.
"Joker" grossed over $1 billion in worldwide box office, becoming the highest-grossing R-rated film in history. The critically acclaimed film earned 11 Oscar nominations, winning two awards, Phoenix won as best actor and Hildur Guðnadóttir took best original score.
READ ALSO:Emma Corrin Joins 'Deadpool' Franchise
The sequel title, "Folie à Deux," is a reference to a medical term for a mental illness shared by two people in close association.
Lady Gaga won  her first Oscar in the category for Best Original Song for the film Shallow, along with Mark Ronson, Anthony Rossomando and Andrew Wyatt.
She is currently nominated for Best Song at next month's Oscars with BloodPop for the single Hold My Hand from Top Gun: Maverick.