The Independent National Electoral Commission (INEC) has recorded 10,235,569 fresh registrations in week seven of the fourth quarter since the Continuous Voter Registration (CVR) began in June 2021.
This is an increase of 6.7 per cent from week six record of 9,591,109.
The data in INEC database as at 7am Monday, 30th May, 2022, show that 6,544,245 have completed registration. Those who registered online were 2,928,447, while those who registered physically were 3,615,798.
The state with highest number of new registered voters is Delta – 327,852, followed by Bayelsa – 326,450, Rivers – 317,427.
By demography, the data also show that male voters are 3,253,441, female voters, 3,290,804, Persons with Disabilities (PWDs), 53,663 and youth voters, 4,550,847.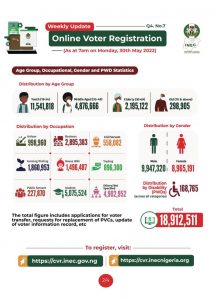 INEC indicated that the overall registered voters since the registration began is 18,912,511. This includes all applications for voter transfer, requests for replacement of PVCs and update of voter information record.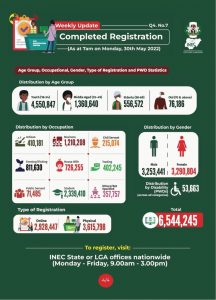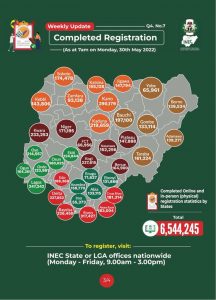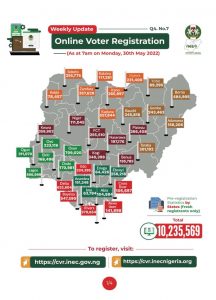 The commission suspended online pre-registration of voters on Yesterday, being 30th May, while other aspect of the registration process like physical registration and biometric capturing will end on 30th June, 2022.
The electoral body said the reason is to enable it clean up the registration data, print the Permanent Voters' Cards (PVCs) and compile the register ahead of the 2023 general elections.
Support Investigative Journalism and Mentorship
Courageous Journalism of Truth,Transparency and Development is in the DNA of Prime Business Africa; By donating as little as N1000 or $1 today, you are helping to keep credible journalism and life-changing information free for all.