The effects of Russia's invasion of Ukraine has continued to bring untold hardship to the countries like Nigeria that depend on both nations' supply of gas and agricultural products says economic and diplomatic experts.
The experts made the observation at a quarterly webinar series titled 'The Russia/Ukraine War And The Nigerian Professional: Implications for Jobs, Economy and Food Security', organised by the Institute of Change Management (ICM) on Thursday, 12th May.
The discussion which was moderated by Prof. Olusola Ojo, Dean, College of Social & Management Science, McPherson University, had two guest speakers: His Excellency, Amb. Ogbole Amedu Ode, former Head of Nigeria Mission in Mexico and Singapore; and High Chief Darlington Momoh Umoru, Media Entrepreneur/Public Affairs Analyst.
Prof. Olusola said that though the war is in Europe but the impact is felt globally especially in countries that depend on the two nations for supply of various products.
Umoru said the International Monetary Fund (IMF) and other global economic institutions are worried about what they called 'Global Hunger' resulting from supply chain disruptions caused by the war.
He said African countries like Nigeria depend on importation of products like wheat used for production of bread, pastry and other food items since they cannot be sourced locally to meet demands.
Umoru also said Nigeria depend on supply of potash, one of the raw materials used in production of fertilizer and even already made ones from Russia, but the war and sanctions imposed on the country has disrupted supply which now makes it difficult for access to the product with its consequences on the production of fertilizer and the agricultural productivity generally.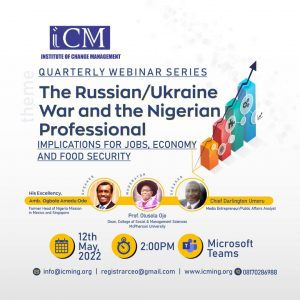 According to a report by Reuters, Nigeria had to buy emergency supplies of Canadian potash in April after it was unable to get import from Russia due to impact of Western sanctions.
The report indicated that spot prices of the key fertilizer as of last week Tuesday was over 250 per cent for deliveries to West Africa compared to last year.
Ukraine is known for its agricultural yields but currently cannot export any product due to the crisis.
Russia on the other are under heavy economic sanctions that affect their supply of products including gas to different parts of the world.
Ambassador Amedu Ode, also spoke eloquently on the dire consequences of the war to countries like Nigeria.
"Russia-Ukraine war has caused supply chain disruptions and import dependent countries like Nigeria is suffering it. Russia supplies 40 per cent of gas demands to Europe," His Excellency Ode stated.
"Countries in the West that depend on Russian gas are now making desperate moves to get alternative supply," the diplomat quipped.
This supply disruption he said has further made the prices to jump astronomically, making many in Nigeria who can't afford it resort to charcoal as alternative for cooking.
On energy, Ode offered his thoughts on how Nigeria could have been a major player in the sector.
"If Nigeria had good gas infrastructure to process it's large gas deposits, it could have been a net exporter of the product at this time that other parts of the world need it as a result of sanctions placed on Russia," Ode stated.
On food security in the country, Umoru stated that Nigeria has good climate and vegetation for agricultural production but the issue of insecurity especially in the North, coupled with general loss of interest in farming due to decades of dependence on oil revenue, have made the sector remain moribund, hence the inability to produce what can meet local demands talk more of exports.
Umoru pointed out that the supply chain disruption due to the war, exposed the weaknesses of the country and also opportunities that could have been exploited due to the crisis.
He also stressed the need to boost security network in the country as investors especially from the private sector would not risk coming to invest in the agricultural sector in the North being overun by bandits and terrorists.
Ode concluded that Nigeria should look inwards to work on its comparative advantage and adopt measures to become self sufficient thereby gradually reducing dependency on importation and boost food security.