Arsenal manager Mikel Arteta on Friday evening spoke on wide range of issues regarding the impressive season the north London side has had.
Arsenal are currently the Premier League leaders with 50 points from 20 matches with a game on hand over challengers, and current champions of the division, Manchester City.
The Spaniard pointed out that the future of Anglo-Nigerian striker, Folarin Balogun, could be decided in the summer following his impressive loan stint at French club, Reims.
Balogun whose parents are Nigerians but is also eligible to play for the USA where he was born and England where he had his upbringing is currently the leading goal scorer on the French Ligue 1 with 14 goals.
The 21-year-old has surpassed the illustrious duo of Lionel Messi and Kylian Mbappe of Paris Saint-Germain (PSG) on the goals chart and his rising profile has led to media reports that Arsenal could sanction his sale as his market value is currently on the rise.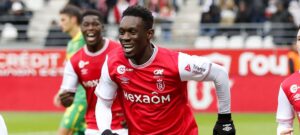 Below are Mikel Arteta's words on when the club management will take a definite decision on the future of the potential Nigeria international who has represented England at the U-21 level.
READ ALSO: Arsenal May Sell Balogun To Prospective Suitors Despite 'Family' Claims
On his plans for Balogun's future
The plan is now he finishes his loan period, we assess the situation, where he is, where we are. We sit down and plan the next chapter in his career.
On what he wanted from Balogun's loan in France…
"He had some scars from that period (at Middlesbrough) there were moments when he suffered, moments when he played, and when he didn't.
"Moments when he played in what he believes is not his best position. He threw all those excuses out and go onto the next experience and that's what he did.
"He put that behind him, but using exactly what worked for him, what didn't work, look in the mirror and move to the next one. He's done that really, really well.
On whether he is surprised by Balogun's form
"I am very pleased and when you look at the numbers and what he is doing it's just incredible. It's very rare to see that.
"But he's got something special, that's why we decided to give him a long-term contract and have faith in him and give him the long period that he needs now, because the one (loan) he is having now is really different to the one he had before at Middlesbrough.
But that one was very necessary to see the outcome of what he is having now.
On Balogun being the top scorer in Ligue 1
"I'm so happy for him. He's a boy that has a really clear idea of what he wants to do with his career.
"He's really ambitious, really committed and really brave. We discussed a lot before he made that move whether it was the right place to go and the other choices he had. He was so convinced. I'm really happy for him because he deserves what he's getting.