Manchester United manager Erik ten Hag has condemned the homophobic chants aired during Manchester United's game with Chelsea at Stamford Bridge which rang out: "do not belong in the stands 
Some sections of the United supporters sang a derogatory chant aimed at fans of the home team late in the game on a weekend when the Premier League are promoting the Rainbow Laces campaign for equality and diversity.
United fans have previously been ejected from Stamford Bridge for singing the song and it was heard from the away end during the 1-1 draw between the two teams.
Chelsea released a statement condemning the action of some supporters after a game here between the two clubs in February 2020, but they are yet to comment this time around.
Ten Hag was asked about the chants during his press conference and condemned them, but he also criticised Chelsea fans for their taunts at Raphael Varane.
The France defender was in tears after suffering an injury in the second half but he was jeered by the Chelsea fans as he limped off the pitch and then walked around the perimeter back to the tunnel.
"I think it doesn't belong to the stands but when I call the stands, I mention the stands.
"What has been said doesn't belong to the stands. I mean the whole stadium because when Rapha Varane came off, it was the same. The other side, Chelsea fans. We don't all do it.
United did not parade Cristiano Ronaldo who remains out of the senior squad after he stormed out of the pitch in United's Premier League midweek game.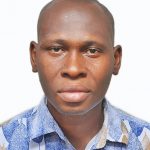 Izuchukwu Okosi is a Nigerian sports and entertainment journalist with two decades of experience in the media industry having begun his media journey in 2002 as an intern at Mundial Sports International (MSI) and Africa Independent Television (AIT), owners of Daar Communications Plc.
In October 2004, Okosi joined Complete Communications Limited, publishers of Complete Sports newspaper and Complete Football magazine as a reporter and later script writer for the Complete Sports studio.
He worked there for 13 years until October 2017.
Okosi also worked various times as Correspondent, Content creator and Editor at Sports Market International Magazine, Opera News, All Nigeria Soccer Media and Iconic Media Watch.
He also undertook freelance writing gigs for some local and international organizations.
Okosi is a member of the Actors Guild of Nigeria (AGN), Association of Movie Producers (AMP), Association of Voiceover Artistes of Nigeria (AVOA), Sports Writers Association of Nigeria (SWAN) and Nigeria Union of Journalists (NUJ).
He has been part of cast in some Nollywood movies and radio dramas including Blood Money 2, Scores To Settle, Dead End 2, Another Campus Tale and Battle Line.
Aside mainstream media and the entertainment industry, he has interests in scouting/unearthing of talents in the sports and creative sectors, exports business and property development.