Following his unprofessional conduct and threats to the lives of fellow musicians, organisers of the 2022 Headies Awards have disqualified controversial Nigerian singer, Habeeb Okikiola, alias Portable, from the list of nominees reports Prime Business Africa.
The controversial musician threatened to kill other nominees in the same categories of awards he was nominated for should he not win the award.
Portable was nominated in May to contest in the 'Rookie of the Year' and 'Best Street-Hop Artiste' categories.
READ ALSO: Buju, Ruger, Zinoleesky, AyraStarr, Nominees For Headies 2022 Award
Other nominees in the 'Rookie of the Year' category include Av, Fave, Magixx, and Ugocci.
For the second category, he was expected to come up against Bella Shmurda, Mohbad, Naira Marley, and Goya Menor, among others.
Portable, after his nomination, threatened to kill anyone who wins any of the categories in his place.
Reacting to the threat on Tuesday, the organisers of the 2022 Headies Awards said the singer failed to meet their demands.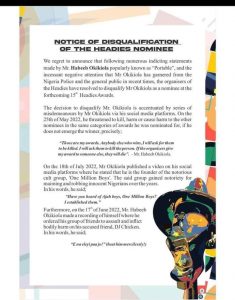 The Headies said: "We regret to announce that following numerous indicting statements made by Mr. Habeeb Okikiola popularly known as 'Portable', and the incessant negative attention that Mr. Okikiola has garnered from the Nigeria Police and the general public in recent times, the organisers of the Headies have resolved to disqualify Mr. Okikiola as a nominee at the forthcoming 15th Headies Awards.
"Being subject of an investigation relating to criminal activities, Mr. Habeeb Okikiola is hereby disqualified from both categories of awards at the forthcoming 15th Annual Headies Awards scheduled to hold later this year.
"We shall not condone reckless and uncouth statements from artists and hereby disassociate ourselves from any individual linked to such assembly or activities linked to him as described.
"The music industry demands all-round excellence. It is extremely important for young artists being potential role models to exude professional responsibility, proper decorum and have respect for others."
The organisers had earlier stated that it had notified the Nigeria police of Okokiola's actions to fellow nominees.
It also demanded the immediate retraction of the video as well as a written apology to nominees in both categories and to The Headies has been made.
"Should Mr. Okikiola fail to meet our demands, we will not only disqualify him from participating in The Headies but also enforce the instrumentality of the law.
"The general public is hereby implored to disregard the video and stop the dissemination of the same in the public space," Headies had said.
The 2022 Headies Awards, which is the 15th edition of the prestigious award, is scheduled for September 4, 2022, in Atlanta, United States.