As the world pushes for sustainable environmental practices there is new emphasis on integrating environment-based arts education in Nigerian schools.
This was espoused during an art exhibition organised at Thought Pyramid Arts Centre, Abuja last week in honour of the visit of Ford Foundation Executive Vice President, Hilary Pennington, and other leaders of the Foundation to the capital city.
In line with its education policy vision, Ford Foundation has embarked on awarding grants for projects focusing on citizens' re-orientation about sustainable environment through arts.
One of such is the EcoSmart Project designed by Artstier Studios based in Abuja, for the facilitation of eco-friendly art practices and products in Nigerian secondary schools.
Speaking during the art exhibition, the Executive Director, Artstier Studios, Mr Obi Nwaegbe, said the project with the theme, "Imagine Green", was designed to contribute to the global efforts of ensuring sustainable environment, with focuse on arts.
Mr Nwaegbe during his presentation before Ford Foundation officers at the art centre, listed various forms in which the project is dealing with promoting eco-friendly practices which among others include paintings that depict safe environments; recycling waste materials by transforming them into art objects for aesthetics, entertainment and education purposes.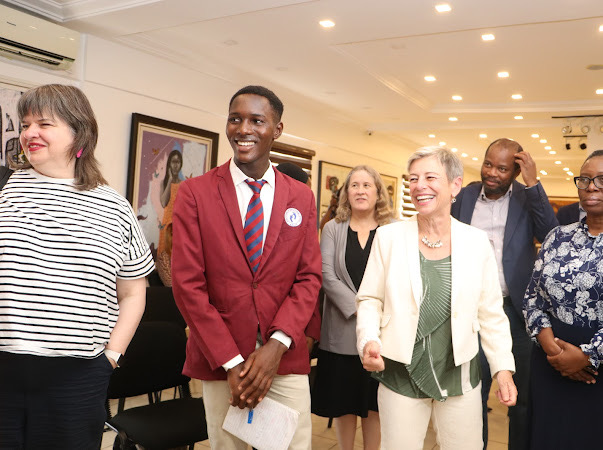 The Artstier Studios executive director displayed various art works depicting the environment, bearing different messages about sustainable practices.
He said the project also involves conducting workshops in schools across the country for the school authorities to see the need to integrate arts education focused on sustainable environment in the curriculum.
Speaking further about the project, Nwaegbe said: "Imagine Green is a phrase coined for the EcoSmart Project designed by Artstier for the facilitation of Eco-friendly art practices and products in our secondary schools. Due to Nigeria's huge population and strategic position as one of the largest economies in Africa, it has the responsibility to lead the charge on this globally fundamental discourse.
"The purpose of working with teenage students for this project borders on their impressionability and susceptibility to change. Today's young are tomorrow's leaders, and it is common sense that we work to get them to imbibe a much more eco-sensitive attitude towards the environment."
On economic side, he explained that recycled waste materials for art making have economic value. "There is a growing global demand for upcycling art as a method of public orientation about the environment, and the artist and other related professionals can tap into the economic potentials of this global demand to generate in one and on different economic scales both as individuals, head of corporate organizations as well as policy makers."
Continuing, he said: "The EcoSmart 'Imagine Green' project started as a peripheral component of the Artstier establishment and our earliest foray into the exercise started with making environmental theme works with discarded materials. I Obi Nwaegbe, Executive Director of Artstier, who also happens to be the chief resident artist and Artstier Studios initiated this idea and alongside two assistants, implemented over a dozen monumental works made of discarded beverage cans nailed to boards. Our operations expanded with carrying out a workshop on the subject and then subsequently partnership with larger establishments with similar visions."
Nwaegbe noted that his organisation had received grants from Ford Foundation for the EcoSmart programme which it started in Lagos, and has since been an annual event designed for children in secondary schools. "We have carried out a workshop with seven schools in Lagos with over a hundred students and have an exhibition in June to commemorate the International Day of the Environment," he further stated.
He noted that Ford Foundation supported the project because it found it to be in line with its vision and policy on education.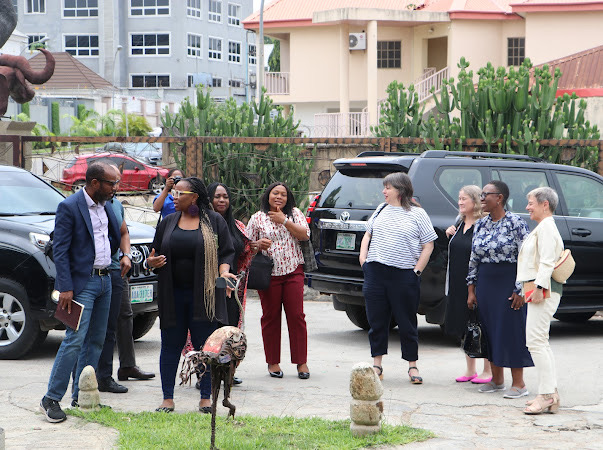 "We received a grant award from Ford Foundation to help facilitate the program in 2022. This was after a series of intense scrutinies of our work and progress to ascertain our level of commitment. The Artstier EcoSmart fits into their Education Policy Vision and we are in partnership with them as a part of their Friendly neighbour correspondence."
Mr Samuel Panshak, who led some students of Foot Steps International School, Gwarinpa, Abuja, to the exhibition, said schools, especially at basic education level have a challenge of deepening knowledge of arts, and that a project like this would help to impact the students with practicals and urged the organisers to extend their invitation to many schools as possible.
Some of the students spoke on what they think of how arts can be deployed in changing attitude of people about the environment.
One of the students of Footsteps International School, Chukwuemeka Michael, said the project would not only help to deepen knowledge of arts in students who are future leaders, but also enable them to have the right orientation about sustainable environment.
"We can benefit from the project by learning the concept of arts.
Arts has helped not only in the area of life but also in science. For example, Leonardo da Vinci used his art to sketch flying machines. The concept was later used to make aircraft, which we're all using today.
"We also use arts to express our traditions. I think the project will help to broaden our mentality and mindset about art," Michael said.
Commenting on the project, Emmanuel Kuyole, program officer on Natural Resources and Climate Change team, Ford Foundation West Africa, said the interesting thing about the project is that it is focusing on children who are the leaders of tomorrow.
"The interesting thing about this particular project is that we are focusing on the right people who will have a different way of looking at our society now and post-2023.
I think it's the right thing to do so that hopefully, we will have a new crop of people who are very environmentally conscious," Kuyole added.