Worship For Change, a Non-governmental organisation focused on helping the less-privileged and children with special needs in Nigeria, plans to raise over N75 million during its 2022 Green Worship Concert 5.0 to be held on October 3, at Elevation Church, Lekki Lagos.
Founder of the Worship For Change, Wale Adenuga, who stated this in a media parley on Thursday, said it is an initiative to raise awareness and support for indigent children, orphans and children with special needs.
Worship For Change which was founded in 2006, organises the Green Worship Concert annually to raise funds for charity organisations across Nigeria that care for vulnerable children and children with special needs.
"The initiative of Worship for Change started in 2006. We use the platform to raise awareness and support for charities that care for orphans and children with special needs. Between 2006 and now, we have been organizing it every year and has been able to raise and disburse over N75 million.
Adenuga, a gospel artist, said the Green Worship Concert has been successfully organised over the years and thanked donors (corporate organisations, and individuals) and others for their overwhelming support to the organisation.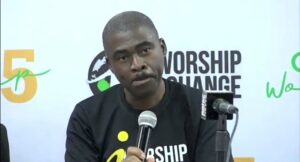 He explained that the NGO works with charity foundations that specialise in care for vulnerable children and children with special needs whom they release proceeds gotten from the fundraising events to, adding that the organisation has been able to reach out to about 35 charity foundations across Nigeria.
In February this year, four charity foundations were offered the sum of N7.2 million proceeds gotten from the last Green Worship 4.0 concert. The concert was held virtually on Saturday, September 18, 2021, with performances by renowned Gospel artists such as Matt Redman, Nathaniel Bassey, Nosa, Noel Robinson, Evans Ogboi, Purist Ogboi, Efe Nathan, Femi Okunuga, among others. The charities that benefited were Leprosy Mission Nigeria, The Farid Centre, Irede Foundation and Godswill Orphanage. 
Adenuga listed charity foundations selected for this year's donation to include RECDOT Foundation, Anambra State; AIM Foundation; Special Children Centre, Kaduna; PureSouls Learning Foundation; Leprosy Mission Nigeria; and The Let Cerebral Palsy Kids Learn Foundation.
He also disclosed that the upcoming Green Worship Concert will have the following artists to perform live: Panam Percy Paul, Nathaniel Bassey, Dunsin Oyekan, Moses Bliss, Chigozie Wisdom, Folake Umosen, King James, Bob Fitts, Victoria Orenze, Laolu Gbenjo, Mairo Ese, 121 Selah, Gaise Baba, Psalmos, Sinmidele
Speaking at the media parley, the founder of The Let Cerebral Palsy Kids Learn Foundation, Tobilola Ajayi, said she was poised to help challenged kids despite the challenges in the Nigerian environment, but today, the result is positive as many of the children who came under the care of the foundation have been empowered to live a fulfilled life.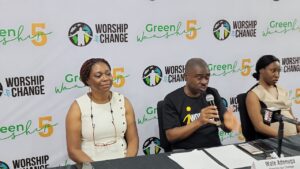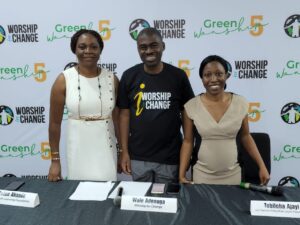 Adenuga while responding to questions from journalists, stated that the beneficiary charity foundations are usually selected by their trusted associates. The charities he added, must be registered with Corporate Affairs Commission and other appropriate authorities, and must also have a record of a significant number of children under their care. On whether their humanitarian activities touch all parts of the country, Adenuga stated that charity foundations they select are cut across all regions. He also pointed out that even though Worship For Change is more of a Christian body, they don't consider religious affiliation when selecting charity organisations or giving donations to orphanages.
The founder also urged members of the public to key into the mission to help children with special needs, saying "We want to raise N75 million this year to give to charities," and that the fundraising will last through the month of October.