Former Group Managing Director Dr. Funsho Kupolokun at a recent event in Lagos revealed some of the secrets of Former President Olusegun Obasanjo at the Nigeria National Petroleum Corporation (NNPC). He said the regime broke the monopoly hitherto enjoyed by multinational oil companies, including Chevron, Mobil, and Shell, to empower Nigerian participation.
Kupolokun made the revelation in a forum monitored by Prime Business Africa, where he shared some of the policies that turned things around at the NNPC during the Obasanjo presidency.
As GMD, he said he was empowered by Obasanjo in 2003 for the NNPC to look for a way to harmonize the oil industry with the general economy because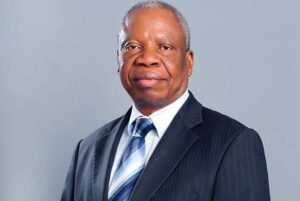 the former president observed that there was no link between the two.
"It was with his (Obasanjo's) blessing that we worked out a framework, which we now call the National Content," Kupolokun said.
Kupolokun said that the policy actions taken to execute the national content initiative to create a conducive environment for indigenous participation during the time put a stamp on marginal fields and gave a level playing ground for everyone who wanted to participate to become a game player, breaking the monopoly of Mobil, Shell and Chevron as the game players in that industry.
Kupolokun, though, admitted that there was a regulatory system in place but it was just not doing effectively well enough to improve the economy.
According to him, Oil production was doing very well at 35 billion barrels reserve and 2.5 million barrels a day. In terms of gas utilisation, the country had 187 trillion cubic feet, and the only challenge was how to harness it to improve the economy.
"I and Ernest Nwapa who worked in my office at that time, went to Brazil to study, What is it that they do that we have not done? Why is it that we are not structured in our approach in this thing, and have they been able to make the oil industry the driver of their economy?," the former GMD said.
He also spoke on gaps to be filled in the Human Resources, fabrication, material and institution in the industry, adding that, at that time,, there was shortage of skilled workers, particularly in engineering.
"Now, you see the government and different players; it is important to get people at the top level to really find out what the challenges of today are, and then build regulatory systems that would take care of that.
"Talking of the Minister, talking of the GMD, talking of the Director of Department of Petroleum Resources (DPR), they have a duty to look in-depth into what looks like a gap in today's terms in our own area, and let them do something about it. Let them improve the regulatory system, to ensure that things work more properly. That is the way I see it. But that is not happening today. In fact, sometimes when people talk about regulation, it is for another purpose, not for the right cause," the former GMD said.
Support Investigative Journalism and Mentorship
Courageous Journalism of Truth,Transparency and Development is in the DNA of Prime Business Africa; By donating as little as N1000 or $1 today, you are helping to keep credible journalism and life-changing information free for all.