Prof. Tijjani Muhammad-Bande, Nigeria's Permanent Representative to the United Nations, and Obi Emekekwue, former Global Head and Director of Communications of the African Export-Import Bank (Afreximbank), were today in New York presented with Excellence Awards by the umbrella organisation of Nigerians working in the United Nations system.
Also honoured by the United Nations Staff Recreation Council (UNSRC)-Nigerian Association at today's ceremony was Jobi Makinwa, Chief of Intergovernmental Relations and Africa at the UN Global Compact, although she was unable to attend the ceremony in person.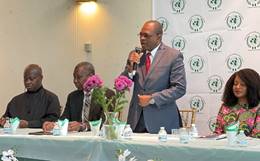 Addressing the audience during the event held at the Nigeria House, Tolulope Tamoka-Lewis, President of UNSRC-Nigerian Association, said that the Association introduced the Excellence Awards as a way to recognize compatriots who had provided valuable support, guidance, and contributions to the advancement of the work of the Association.
She noted that Prof. Bande had always extended a hand of friendship to the Association by supporting its activities and making the facilities of the Nigerian Mission to the United Nations available whenever needed by the Association.
Ms. Tamoka-Lewis credited Mr. Emekekwue with founding the Association and with nurturing it as its first President until his separation from the United Nations in 2012 to join Afreximbank.
Mr. Emekekwue is currently President of DelReeve Konsult Ltd, a specialist firm of Africa-focused communications and business advisors.
He also served as President of the Association of Professional Nigerians in Egypt (APNEG) from 2015 to 2019.
Also in attendance at the ceremony was the Consul General of Nigeria in New York, Amb. Lot Peter Egopija, as well as the executives and members of UNSRC-Nigerian Association, staff of the Nigerian Mission to the United Nations, staff of the Nigerian Consulate and some members of the larger Nigerian community.