Nigerian superstar singer and performer, Davido has released his much-anticipated album "Timeless." This album houses 17 tracks and features Nigerian artists like The Cavemen, Fave, Asake, Beninese-French singer-songwriter Angelique Kidjo, British-Nigerian rapper Skepta, South African music producer/DJ Musa Keys, and Jamaican dancehall/reggae singer Dexta Daps. Tracks 3 (In The Garden) and 14 (Picasso) feature DMW's latest additions, Morravey and Logos Olori.
Also appearing on the album is the Focalistic-assisted track "Champion Sound," which was released in 2021.
Timeless Review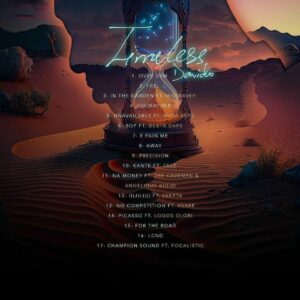 A popular saying goes, "Absence, makes the heart grow fonder". For over a decade, Davido has been a constant in the Nigerian entertainment industry as an household name, he has undeniably become a superstar with an amazing catalogue of hits to his name.
Around this time last year, there were discussions about a potential Davido album for the year, these conversations were normal as he released the gospel-influenced "Stand Strong," in collaboration with the Sunday Service Choir, earlier.
In the usual Nigerian Music Industry fashion, months passed without further discussions and developments, and in the most unexpected turn of events, those discussions were slowly replaced by nationwide sympathies to David and his family over the tragic loss of his son.
10 days ago, Davido announced the release of his most anticipated album with a video post on his official Instagram account. The cinematic video, was an open letter to his fans and supporters, hinting at the music's formative times and his definitive trait of resilience.
READ ALSO:Top 5 Afrobeats Songs Of 2023 First Quarter- PBA Ratings
This is a first time listen review, no pauses, rewinds, fast-forwards or skips of my top 5 songs
"OVER DEM"
The 17-track album opens with "Ova Dem" and sees Davido make the committed assertions that he is over the traumas and betrayals he has felt in the past few years as he reaffirms his standing confidence in himself, his craft, and his belief. I particularly love the addition of the playing of the sax, it added a spiritual dimension to the beat. "I be David for life" would be chorused at every concerts, I'm 1000% sure.
I don't know what I was expecting from the intro but this is a little more fast beat than I expected, but then again this is Davido!! Nice intro, nothing crazy but it's great as a palette cleanser.
"FEEL"
Davido has the superpower of giving you a good time in every of his song you listen to. There's some depth to "Feel", it's a love song, heartfelt on first play but I need to hear this again to get all the feels intended. At first listen, I can tell it might not be a big song as opposed to other songs on the album, but it will have the " Tanana" effect. You'll mumble to the hook whenever you hear it play.
"KANTE" (FEAT. FAVE)
By far my favourite song in the whole Album. I've been a fan of Davido since "Dami Duro", and I never imagined him on a track with someone so soulful like Fave. Her voice is so distinct. I think people focus on the timbre of her voice more than how agile it is, which is really the sell of her singing power. Davido is mirroring Fave's melodies but with his own swaggering touch. The verse is amazing, the hook is incredible too, an all-round hit song.
"PICASSO" (FEAT. LOGOS OLORI)
Davido really put on for the lover-boys on this album. Newcomer and another new DMW signee, Logos Olori, will be a name that will be heard in the industry for a long time if his delivery on "Picasso" is to be considered. Olori was in his feelings on this track as he rode savvy on the beat. His brilliant compatibility and combination with OBO were a treat of silky vocals and unforgettable melodies.
"LCND"
Penultimate song, let's get it. "Legends Can Never Die(LCND)" is a tribute to all the dead friends and family OBO has lost in recent years, most recently his Son Ifeanyi. Many will indeed see this song as a tribute to his Son, as The playful kids' voices at the end of the track point it in that direction even more. It is a very evocative track and will get listeners in their feelings, but with a beat that would get you moving your shoulders. I can already hear everybody singing 'I just wan flex this life before I leave this life', this is definitely going to be the people's favourite.
Support Investigative Journalism and Mentorship
Courageous Journalism of Truth,Transparency and Development is in the DNA of Prime Business Africa; By donating as little as N1000 or $1 today, you are helping to keep credible journalism and life-changing information free for all.

Credibility and transparency is our DNA at Prime Business Africa'. We strongly believe in the role of media as a watchdog of the society that powerfully promotes accountability and transparency in government.
By contributing to Prime Business Africa, you are helping to sustain good journalism and making sure that it remains free to all.