As the Continuous Voter Registration exercise by the Independent National Electoral Commission (INEC) enters week three of the fourth quarter since it began in June 2021, it has recorded 8,855, 996 fresh registrations.
This is revealed by data released by the commission as at Monday 2nd May 2022.
A breakdown shows that 5,415,619 voters have completed registration. Those who registered online were 2,379,063, while those who registered physically are 3,036,556.
Demographically, the data show that male voters recorded 2,688,246; female, 2,727,373; youths, 3,745,129; and Persons with Disabilities (PWDs), 45,412.
INEC data equally indicated that Delta State in the South-South region recorded the highest number of voters registered in the period under review with 576,335, followed by Bayelsa, 493,594, Lagos, 459,898.
READ ALSO: CVR: INEC Records Over 8 Million Registrations In Seven Months
According to the electoral body, the overall total registered voters since June 2021 is 15,789,718. This figure, according to the electoral body, includes application for voter transfer to new location, requests for replacement of PVCs, update of voter information record, among others.
This is against 9,331,977 recorded in the third quarter, suggesting 69.2 per cent increase in voter enrolment.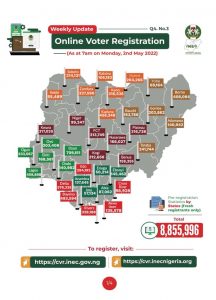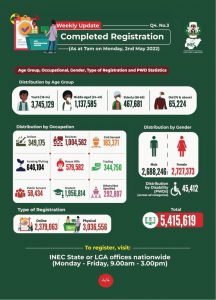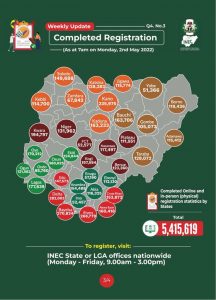 The commission reiterated that the online and physical  voter registration is still ongoing at INEC's state or local government offices from Monday to Friday, 9.00 am to 3:00 pm.
READ ALSO: Fire Razes INEC Office In Zamfara
Though the INEC Chairman, Prof. Mahmood Yakubu recently stated that the voter registration exercise will continue till 30th June, 2022, it is not yet clear if the electoral body will further extend deadline.
The commission urged eligible voters to register and have their Permanent Voter Cards ahead of the 2023 general election and other future elections.
The INEC online registration portal is: https://CVR.inec.gov.ng or https://CVR.inecnigeria.org