As Continuous Voter Registration (CVR) exercise continues, fresh data released by the Independent National Electoral Commission (INEC), has shown that youths account for 63.9 percent of the total record of new registrations.
This is coming after the commission officially extended the registration till further notice.
According to INEC, as at 7 am Monday July 4, 2022 record shows that fresh registrations hit 10,487, 972 in week 12 of the fourth quarter since the CVR exercise began in June last year.
The electoral body gave the figure of completed registration to be 9,455,198. Those that registered Online were – 3,314,169 and those that registered Physically amounted to – 6,141,029.
Notably, the first week of July report showed a decline in the number of online student registrants as May and June recorded two million more online student registrants.
The report under review also showed a three million increase between the May and June in total number of registrants with completed registration.
Categorically, the INEC CVR Update showed a total number of 4,682,036 for Male registrants and 4,773,162 for Female registrants. Persons with Disabilitie (s) PWDs accounted for 71,998 and Youths recorded 6,698,446.
The record of registration by states revealed that Delta State has the highest number of new registrants (641,174), followed by Lagos (640,774), Kaduna (574, 811) and Bayelsa State (550,207). This also reveals that Delta ranked top two amongst States with highest number of registrants sine May 2022.
In the last week of June the INEC CVR update showed that Fresh Registrants were 10,487,972.
Completed Registration: 8,631,696, with Online voters accounting for – 3,250,449 and Physical – 5,381,247.
The commission recently, announced official extension of the Continuous Voter Registration exercise which started in 2021 from June 30th till further notice.
The extension followed  a court ruling in response to an action filed by a human rights organisation, Socio Economic Right and Accountability Project (SERAP) and other concerned Nigerians.
More and more youths are willing to vote in what is considered Nigeria's most crucial election since 1999, as the most populous African country struggles with security and economic challenges.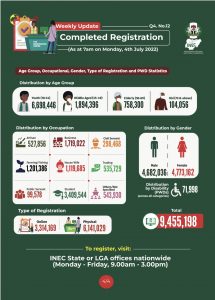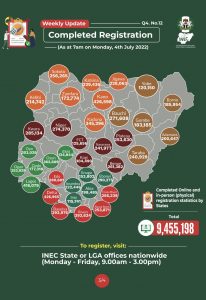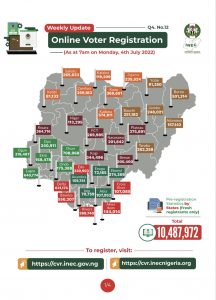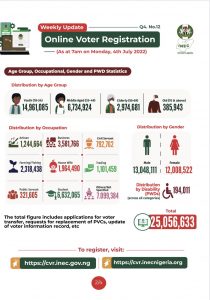 Caleb Ifeanyi Onah, PBA Journalism Mentee