Karan Checker, MD Checkers Africa Ltd, manufacturers of the popular Checkers Custard Powder which comes in different variants have opened up on why the food beverage organistion is desirous of contributing to the development of the game of football in Nigeria. 
Checker spoke with Prime Business Africa's Senior Correspondent IZUCHUKWU OKOSI in Lagos on the objectives of the company on the game and how it hopes to serve their customers better. 
Your company organises the Checkers Cup Challenge football competition. What's your vision for the Checkers Cup Challenge?
My vision is simple. It is firstly an outlet to engage the staff in healthy competition, fostering even better bonds within the Checkers Africa
community and looking out for their general well-being.
Also, as a sports lover in general and a one-time active football player, I wished to contribute my own quota to the game.
I saw a possibility for that especially with a large staff base teeming with active and agile young men and women.
In addition, it serves as a way to relive the stress and tension everyone is experiencing in their day-to-day life.
You held the second edition recently. Do you think you have made improvements from the first edition?
Oh yes, indeed. The first edition though entertaining and enjoyable as well, wasn't as grandiose as this outing.
We also discovered even more latent sporting talents within our ranks. In same manner, there was even more participation from players, spectators and well wishers.
The scope was more – bigger venue, more prizes, more fanfare and general execution for this year's outing was better. This year, media coverage went beyond our company's media team and that is why you were there.
Despite the various problems plaguing Nigerian football, your organization elected to go this path. How do you think things can be improved in terms of marketing, talent development and administration in the country?
Checkers Africa deliberately picked football for a reason. Nigeria has a good history and love for the sport but recent events leave much to be desired.
As a brand that is effectively marketed, we devised using the instrumentality of our marketing prowess and channel, trying in our humble efforts at football development.
We spread the gospel of football and that alone has its impact. I think more brands should engage in this activity using their marketing spends towards a double edged objective; improve the health and well-being of your employees and people and, highlight football game as a sport in like fashion. It is a powerful tool.We are aware there are football academies across Nigeria.
But to be a part of one, you literally have to be dedicated entirely to football. This idea of Checkers Custard Cup has the advantage of lending a hand to working individuals giving
them a shot at perhaps, rediscovering themselves as football potentials. There is the training and all the attendant lead ups preceding the tournament, and it is all supported by the company even as they earn their respective living with us.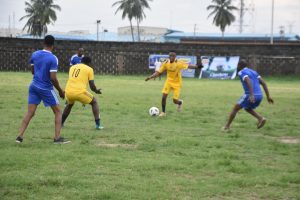 Peradventure, a star is identified, Checkers Custard is ready to assist in ensuring such person or persons get the best support system. It will also be our pride.
Football administration requires resources. But great things also emerge from the most unusual quarters such as this endeavour that somewhat represents a non-financial resource for football management in Nigeria because the goals are common.
What products and services could your customers expect from your brand in the coming years?
As a company, we are committed to highest quality products that impact positively either by their nutritional offerings or
needs they serve. From formulation, raw materials to production, the entire process is world class, top notch and non compromising.
So Nigerians have been served the best quality custard, Checkers Custard that has four variants – vanilla, banana, milk (that is fortified with vitamins A and D) and recently, chocolate custard.
The milk and chocolate custards, [Checkers Custard Milk 3-in-1 and Checkers Custard Chocolate 4-in-1], are essentially super nutritious and whole meals on their own. All our custards are excellent go-to's as snacks, in-between meal fillers and when paired with other proteins, are even more powerful foods.
More recently, we launched Checkers Oats, a highly nutritious, organic and health-promoting product. You can't go wrong with its great taste coupled with its anti-oxidation power.
Our products so far, and into the future are and will be a part of every family's daily lives, and ideal for consumption at all times of the day.
With this trajectory, it is obvious our next set of products – starting from July this year – will tow the path of premium quality, essential consumer goods that support good health and are also pocket-friendly to ensure everyone is a part of the Checkers story.
Thank you for your time 
It's our pleasure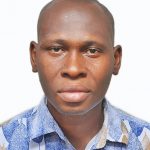 Izuchukwu Okosi is a Nigerian sports and entertainment journalist with two decades of experience in the media industry having begun his media journey in 2002 as an intern at Mundial Sports International (MSI) and Africa Independent Television (AIT), owners of Daar Communications Plc.
In October 2004, Okosi joined Complete Communications Limited, publishers of Complete Sports newspaper and Complete Football magazine as a reporter and later script writer for the Complete Sports studio.
He worked there for 13 years until October 2017.
Okosi also worked various times as Correspondent, Content creator and Editor at Sports Market International Magazine, Opera News, All Nigeria Soccer Media and Iconic Media Watch.
He also undertook freelance writing gigs for some local and international organizations.
Okosi is a member of the Actors Guild of Nigeria (AGN), Association of Movie Producers (AMP), Association of Voiceover Artistes of Nigeria (AVOA), Sports Writers Association of Nigeria (SWAN) and Nigeria Union of Journalists (NUJ).
He has been part of cast in some Nollywood movies and radio dramas including Blood Money 2, Scores To Settle, Dead End 2, Another Campus Tale and Battle Line.
Aside mainstream media and the entertainment industry, he has interests in scouting/unearthing of talents in the sports and creative sectors, exports business and property development.