A Certified True Copy sited by Prime Business Africa on Thursday confirms that the Independent National Electoral Commission (INEC) actually cancelled the primary election of the All Progressives Congress (APC) in Anambra State.
Prime Business Africa gathered that some governorship aspirants in APC had applied to INEC for the certified true copy.
Detailing the conduct of the primary, INEC in the signed report said after the APC national secretariat had written it and picked June 26 for the primary, the Commission had deployed its personnel to monitor the primary. However, between 8 am and 5 pm that accreditation and election were to hold, APC election officials failed to show up.
In the report, INEC noted that on the day of the primary it had deployed 326 officers to monitor the primaries at the designated voting centres. Additional personnel was deployed by the Commission to monitor the collation of results at the Local Government Areas (LGAs).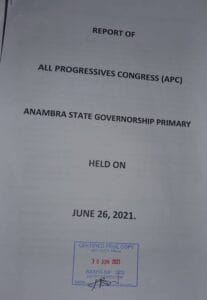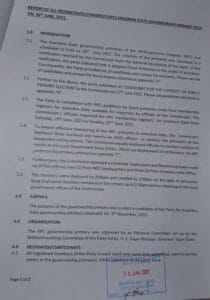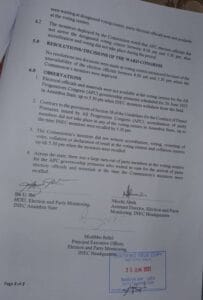 The initial personnel of 326 aside, the Commission also deployed "a combined Supervisory and Monitoring team made up of five officers, two (2) from INEC headquarters and three (3) from Anambra state office", the statement read.
According to INEC although there was a large turnout of APC members in the voting centres, "contrary to the provisions of Section 18 of the Guidelines for the Conduct of Direct Primaries issued by All Progressives Congress (APC), accreditation of party members did not take place in any of the voting centres in Anambra state, up to the time INEC monitors were recalled by 5:30 pm".
Recall that a similar event had prevented the APC from fielding a candidate for the 2019 governorship election in Zamfara. For failing to comply with INEC's October 7, 2018 deadline for conducting its primaries, the Commission had barred the party from the election.