Give President Buhari some credit; he's been a little bit more honest in many instances than a host of other politicians. Even in certain circumstances where a little lie would have saved him some embarrassment, he would opt for the truth.
Last week, the President told a bewildered nation that he was staying back in London after attending the coronation of King Charles III to see his dentist. Many were surprised that the President couldn't have his teeth checked at home. Staying back in London, with all the attendant costs, just to fill dental cavities or pull a tooth is quite wasteful and speaks to Buhari's habitual self-indulgence. But why did the President not lie about his mission in the UK? He could just have told us that he was staying back in London to meet with some dignitaries in connection with Nigeria's intractable power problems, or that he was taking a week to rest. Even when he had an ear infection in mid-2016, the President was quite open about it. Buhari's candour makes the elaborate and lengthy explanations given for Bola Tinubu's trip to Europe the same week sound untruthful.
READ ALSO: Tinubu Vows To Fulfil N200 Dollar Rate Promise, Fuel Subsidy Removal, Others
In a press statement, the President-elect's media officials said that he was travelling out because he wanted to get away from distractions and pressures at home, and while in Europe, he would also be looking for investors and prepare for his inauguration. However, the statement did not mention the European country he was visiting. From comments in the media, many believe that the man has only gone back to see his doctors for a follow-up treatment. He had travelled out for over a month soon after INEC announced him winner of the Presidential election. Photographs taken as he alighted from the aircraft on his return showed that he was carrying a cannula (or midline, as it is also called) on his lower right arm. It set off a firestorm of theories and speculations about his health status and the reasons he was away for that long. A friend who practices medicine in the US forwarded the same photograph to me, accompanied with a long footnote on nephrology, endocrinology and hepatology. He concluded with what he thinks is ailing our next President. I will not disclose my friend's medical opinion, but suffice it to say that the incoming President has given an early indication of how open he would be with Nigerians.
But let's focus on the official reasons for the trip. If he is travelling because he wants avoid pressures from party members seeking political appointments, how then will he cope with the demands of the office he is soon taking? As President, Tinubu would be dealing with all sorts of pressures and crises at the same time, be it cost of living crisis; strikes from the labour unions; Boko Haram bombings; school kidnappings; natural disasters and even a military coup in the subregion. There will also be pressures from those seeking appointments and favours, in addition to piles of files from ministries and departments demanding his attention. The National Assembly, with a large membership from the other parties, will present its peculiar demands. The president's office is a pressure cooker of a kind. Will Tinubu be running to Europe to take a rest and escape from these pressures? His excuse therefore beggars belief.
What type of investors would he be looking for in Europe; for which sectors of the economy and what incentives is he offering them? Don't forget that capital prefers where the risk is low, return is high and the environment stable and conducive. Is Mr Tinubu well briefed on those peculiar problems in the country that discourage investors? Problems like scarcity of foreign exchange; intractable electricity shortages; endemic corruption in the public sector and logistics inadequacies, among others? How prepared is he to offer a satisfactory pitch for the country? In any case, going to Europe to look for investors is almost a misadventure. Investments from there into Africa has been drying up steadily in the past few decades, and taking its place is China. Between 2014 and 2018, 16% of FDIs (Foreign Direct Investments) into Africa originated from China, while USA in only 8% each. China is also the largest creditor to African governments, accounting for 14% of sub-Saharan Africa's total debt stock, according to Foresight Africa 2018. There has also been a jump in private investments from China. A 2017 McKinsey study reports that there are more than 10,000 Chinese-owned firms operating in Africa. My advice? Look East, Mr President-elect.
Buhari's decision to stay back in London just to see a dentist underscores his well-recorded disdain for our healthcare system. He has never been to any Nigerian hospital in the eight years he has been President, in spite of the many first-class hospitals in Abuja and Lagos. It was Vice President Yemi Osinbajo who checked into Duchess Hospital, Ikeja, Lagos, for a thigh surgery last July. He was well commended by Nigerians for his patriotism. I wrote a piece to thank him for that. But the President has no iota of trust in our hospitals. He commenced his tenure with an ear infection for which he went to London for weeks to  seek a cure. He had also spent months in London seeking medical help for undisclosed ailments. If he did not have any confidence in our hospitals, why couldn't he build one and equip it to his tastes? Running abroad for every minor ailment smacks of multifaceted self-centeredness.
Leadership goes beyond the title you hold or the office you occupy. It entails your ability to inspire the nation, motivate the people and instill confidence and pride in the citizens. Imagine how proud we would all be if the President had walked into a hospital in the country for his dental checks. Imagine the intrinsic value that would have added to all the professional work in that hospital. Sadly, I don't expect the next President to do better.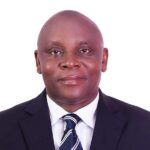 ETIM ETIM is a journalist, banker and author. He has been a member of the Editorial Board of The Guardian, a Regional Manager in Access Bank and is currently a Columnist in Prime Business Africa, The Cable and Businessday newspapers.
He is also the Chief Executive of Stein Meyer Communications, a major media consultancy and the author of the best-selling book, "Akwa Ibom Heroes: Inside Story of the Fight for Abrogation of Onshore-Offshore Oil Dichotomy" and co-author of another book, "Osinbajo Strides: Defining Moments of an Innovative Leader".