President Vladimir Putin delivered a compelling speech during a virtual address to Brics leaders on Wednesday, using the platform to offer a staunch defense of Russia's military intervention in Ukraine.
His address also highlighted the significance of the Brics alliance as a counterbalance to what he referred to as US global dominance.
With directness and conviction, Putin stated, "Our actions in Ukraine are dictated by one thing — to end the war that was unleashed by the West and its satellites against the people who live in the Donbas." Referring to the eastern region of Ukraine where conflict has been ongoing since 2014, he reiterated the Kremlin's narrative that Russia's involvement was in response to perceived hostile actions by Kyiv and Washington.
READ ALSO: BRICS Summit: China Asserts Peaceful Expansion and Multilateral Cooperation
The speech drew attention as Putin framed Russia's actions as a necessary response to maintain regional stability. "I want to note that it was the desire of some countries to maintain their hegemony that led to the severe crisis in Ukraine," Putin asserted, emphasizing his perspective on the geopolitical dynamics at play.
The Brics forum, which includes Brazil, India, China, and South Africa, has refrained from condemning Russia's actions in Ukraine. For Moscow, this alliance has grown in importance as a means to counter Western sanctions by fostering increased trade with partners in Asia, Africa, and Latin America.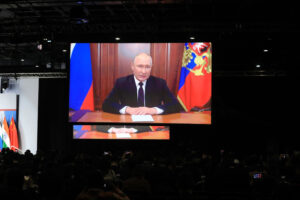 While Putin expressed openness to negotiations to end the conflict, he made it clear that any resolution should consider the "new realities" established by Russia's military presence, which currently controls a significant portion of Ukraine's territory. This stance directly contrasts Ukraine's demands for the complete restoration of its land and the removal of Russian forces.
South African President Cyril Ramaphosa, who presented an African peace plan to Putin and Ukrainian President Volodymyr Zelensky in June, responded to Putin's speech by affirming Brics members' commitment to achieving conflict resolution. Ramaphosa's statement underscored the cooperative efforts within the alliance to mitigate the ongoing crisis.
The speech also shed light on Russia's broader objectives, as Putin used the occasion to champion a "multipolar world order" and promote the strengthening of Brics. This strategic positioning aligns with Russia's ambition to challenge the dominance of Western powers in global affairs.
Notably absent from the summit was Putin himself, due to an outstanding arrest warrant issued by the International Criminal Court (ICC) in March. The ICC alleged war crimes by Putin in relation to the Ukrainian conflict.
Russia dismissed the accusation, citing its non-membership in the ICC, while South Africa's membership in the court raised the prospect of potential legal action had Putin attended the summit in person.