Reprieve came to the families of the remaining 23 Abuja-Kaduna passengers held hostage by the dreaded Boko Haram terrorists on Wednesday as they have been released from captivity reports Prime Business Africa.
Following the efforts of the seven-man Presidential Committe assembled by the Chief of Defense Staff (CDS), General LEO Irabor, the release was effected on Wednesday at 4pm Nigerian time.
The kidnap of the train passengers on 28 March 2022 had elicited worldwide condemnation with the Nigerian government deemed not to have done enough albeit some other captives were released before Wednesday including two nursing mothers and those who were able to pay ransoms to secure their freedom.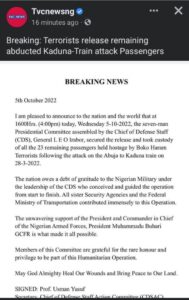 In a release made available to the media by the Chief of Defense Staff Action Committe (CDSAC), Professor Usman Yusuf, the Nigerian Military under the leadership of the Chief of Defense Staff and other sister security agencies worked tirelessly in achieving the operation.
"I am pleased to announce to the nation and the world that at 1600Hrs (4:00pm) today, Wednesday 5-10-2022, the seven-man Presidential Committe assembled by the Chief of Defense Staff (CDS) General LEO Irabor, secured the release and took custody of all the 23 remaining passengers held hostage by Boko Haram terrorists following the attack on the Abuja to Kaduna train on 28-3- 2022.
"The nation owes a debt of gratitude to the Nigerian Military under the leadership of the CDS who conceived and guided the operation from start to finish.
"All sister Security Agencies and the Federal Ministry of Transportation contributed immensely to this Operation.
"The unwavering support of the President and Commander-in-Chief of the Nigerian Armed Forces, President Muhammadu Buhari GCFR is what made it all possible.
"Members of this Committe are grateful for the rare honour and privilege to be part of this Humanitarian Operation.
"May God Almighty Heal Our Wounds and Bring Peace to Our Land," the release read.
Support Investigative Journalism and Mentorship
Courageous Journalism of Truth,Transparency and Development is in the DNA of Prime Business Africa; By donating as little as N1000 or $1 today, you are helping to keep credible journalism and life-changing information free for all.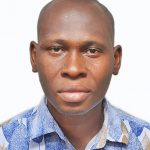 Izuchukwu Okosi is a Nigerian sports and entertainment journalist with two decades of experience in the media industry having begun his media journey in 2002 as an intern at Mundial Sports International (MSI) and Africa Independent Television (AIT), owners of Daar Communications Plc.
In October 2004, Okosi joined Complete Communications Limited, publishers of Complete Sports newspaper and Complete Football magazine as a reporter and later script writer for the Complete Sports studio.
He worked there for 13 years until October 2017.
Okosi also worked various times as Correspondent, Content creator and Editor at Sports Market International Magazine, Opera News, All Nigeria Soccer Media and Iconic Media Watch.
He also undertook freelance writing gigs for some local and international organizations.
Okosi is a member of the Actors Guild of Nigeria (AGN), Association of Movie Producers (AMP), Association of Voiceover Artistes of Nigeria (AVOA), Sports Writers Association of Nigeria (SWAN) and Nigeria Union of Journalists (NUJ).
He has been part of cast in some Nollywood movies and radio dramas including Blood Money 2, Scores To Settle, Dead End 2, Another Campus Tale and Battle Line.
Aside mainstream media and the entertainment industry, he has interests in scouting/unearthing of talents in the sports and creative sectors, exports business and property development.