Arsenal manager Mikel Arteta has lifted the lid on his team's amazing run in the Premier League following the 3-1 win over North London rivals Tottenham Hotspur at the Emirates on Saturday.
Thomas Partey, Gabriel Jesus and Granit Xhaka scored the Gunners' goals but Harry Kane had given Spurs some hope to restore parity when Arsenal led at 1-0 early in the game.
The win means that Arsenal who narrowly lost out on the UEFA Champions League places last season to Tottenham still leads in the league on 21 points and will finish the weekend in same position even if Manchester City in second place win the Manchester derby on Sunday afternoon against United.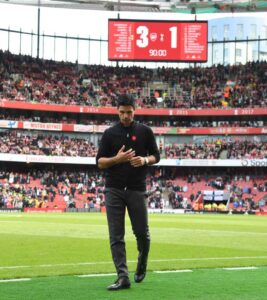 Arteta spoke to the media on his team's winning run having won seven out of their eight matches in this campaign.
"I don't know and I cannot answer that question," Arteta said on if his team are title contenders this season.
"We are now at the top of the table and we're really happy to be there, we want to continue to be there and just focus.
"It's a really hungry and humble team and we know we still have so many things to improve to get to a level that is required to actually do something very impressive in this league."
I wouldn't like to highlight any individual," said the Spaniard when asked to comment on the impact of Gabriel Jesus so far this season.
"Obviously Gabi [Jesus] brought something different to the club, to the team, certain qualities and experiences that he's been through that are so helpful and you can see that., but for me the powerful thing is how we connect with each other.
"I'm very happy, especially with the manner and the way we connected straight away with the game, with our crowd and the energy we generated, it was phenomenal.
"We demanded to play in a certain way, and that's obviously different to what they [Tottenham], but I think there were two really good sides out there trying to do their own thing, and we are really happy we won the game."
Arsenal's next Premier League game is against Liverpool.