It's been 12 years since the Akwa Ibom State government purchased an executive Gulf Stream jet for the use of its governor. The plane was bought for over $40 million and equipped at over $10 million with modern avionics and other facilities, bringing the total costs to over $50 million. Governor Akpabio used it for the last three or four years of his administration and handed it to his successor, Governor Udom Emmanuel, who has used it for all of his eight years.
I am now asking Mr Umo Eno, who may take office in May and succeed Udom Emmanuel, to avoid the temptation to use the aircraft. He should please sell it and spare us the rising costs of keeping the 12-seater aircraft.
It is becoming increasingly very costly to maintain the aircraft. An airplane is like a car or any other equipment. The older it gets, the higher the maintenance costs. So far, the Akwa Ibom State government has spent over N150 billion in the last 12 years to keep the aircraft. The cost components are crew salaries and allowances (three pilots, flight engineers, and flight attendants); insurance premiums; parking fees, fueling, depreciation, monthly maintenance, and the twice-yearly C-checks. The costs of maintenance and C-checks are increasing every year as the aircraft gets older. Remember, apart from the salaries of domestic crew staff and parking fees, all other costs are denominated in dollars, with implications for exchange rate fluctuations. With inflation rising almost every day, these costs will continue to increase, and the state will find it increasingly difficult to bear them.

Akwa Ibom State has many urgent needs to take care of. The unemployment rate is over 51 per cent; the poverty rate hovers above 70 per cent and the misery rate has hit the skies. Our people are poor, very poor, miserable, and almost helpless. Our education, healthcare, and many other key sectors require urgent attention. It is heartbreaking to see our kids sit on the floor in our public schools – even in schools in Uyo. Right now, the average cost of maintaining the aircraft in a month is rising above N1 billion. It is therefore unconscionable for a governor to continue to use this aircraft. I urge the next governor to put up the plane for sale and dispose of it immediately. It is time to save Akwa Ibom from this huge financial burden. It is good enough that Akwa Ibom State has an airline, Ibom Air, which in the last three years has carved a niche for itself as a well-managed air transport business. With its focus on customer satisfaction and overall impressive prompt service, the airline has taken a good slice of the market share within a short period. Our governor can use the services of Ibom Air in and out of Uyo. Where it is very urgent and important, he can charter a jet. But it is no longer judicious to keep this one permanently.
I have heard that Umo Eno is a humble person with a humble background. I have also heard that he has no tinge of arrogance in his DNA. Well, I don't know him personally, but if these are valid testimonials, he should not have a problem flying Ibom Air with the rest of Akwa Ibom people. Our past governors, including the iconic Obong Victor Attah, who fought tirelessly for the oil boom we enjoy now, flew commercial out of Calabar or Port Harcourt Airport. We had no airport then. I know that many people around the new governor would be telling him: "Your Excellency, your predecessors have enjoyed the private jet. Why are they telling you not to enjoy it? Why is it now that it is your turn? Why Sir?'' Truth is that Akwa Ibom State is not as wealthy as some people think. IGR is about N3 billion in a month, but Lagos State with an IGR above N70 billion in a month does not have a dedicated aircraft for its governor. Lagos governors fly commercial aircraft to wherever they want to go. Kaduna State with a huge IGR – about N50 billion a month also – does not have a private jet. Rivers State has a private jet or two, but its IGR is well above N50 billion in a month. Akwa Ibom State is therefore in a wrong league. With only N3 billion in IGR and less than $3,000 in per capita GDP, our state has no business maintaining a private jet for its governor. Umo Eno should please sell it off, or put it on lease and generate money for the state.
The administration of Governor Akpabio bought the aircraft in the heydays of the oil boom when crude oil was selling for above $100 per barrel; the country was producing about two million barrels daily and oil theft was still at artisanal level. Our state was earning close to N100 billion in monthly allocation (now it is around N20 billion on average). I did not like the idea of the government buying the aircraft, and I raised it with the then governor in a phone call. The acquisition was already generating some controversy. Akpabio took time to explain why he acquired the plane, which was essentially for him to travel efficiently and effectively for official business. "Sometimes, I have reasons to travel out of Uyo at night when the commercial airlines had closed,'' the governor told me. He then, surprisingly, referred me to speak with the late Idongesit Nkanga (a retired air force pilot who was then the Chairman of the Ibom Airport Authority and was well-informed about the purchase of the plane) to establish its cost-effectiveness. I called the retired air force officer, and he dutifully informed me about the costs and all that, and emphasized that it was a fair deal. I agreed politely, but inside me, I was not impressed. Well, we cannot turn back the hands of the clock. Our governors have used the aircraft for 12 years now. It has served its purpose, I suppose. It is time to dispose of it and use the money for other things.
Support Investigative Journalism and Mentorship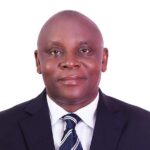 ETIM ETIM is a journalist, banker and author. He has been a member of the Editorial Board of The Guardian, a Regional Manager in Access Bank and is currently a Columnist in Prime Business Africa, The Cable and Businessday newspapers.
He is also the Chief Executive of Stein Meyer Communications, a major media consultancy and the author of the best-selling book, "Akwa Ibom Heroes: Inside Story of the Fight for Abrogation of Onshore-Offshore Oil Dichotomy" and co-author of another book, "Osinbajo Strides: Defining Moments of an Innovative Leader".