Labour Party presidential candidate, Mr Peter Obi, again scored the highest, with 77 pe rcent in the third pre-election opinion poll conducted by Prime Business Africa, an independent Africa-focused multi-media organisation.
READ ALSO: 2023 Pre-campaign Poll Puts Peter Obi In 87.9% Lead; Tinubu, 8.5%; Atiku, 1.8%

The candidates listed in the voting options were: Bola Ahmed Tinubu of the All Progressives Congress (APC), Atiku Abubakar of the People's Democratic Party (PDP), Peter Obi of the Labour Party, Rabiu Musa Kwankwaso of the New Nigeria Peoples Party (NNPP), Omoyele Sowore of the African Action Congress (AAC) and 'Others.'

Other candidates, according to the poll results, scored as follows: Tinubu of APC, 16 per cent; Atiku of PDP, 4 per cent; Kwankwaso of NINPP, 2 per cent; Sowore of AAC, 1 per cent and the option listed as 'Others' recorded 3 per cent.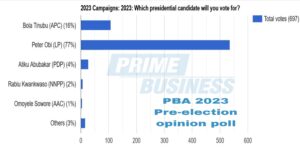 The poll which is the third and final in a three-phase opinion poll organised by the, multimedia news and analysis platform, had over three million views with just 697 of them opting to make a pick.

The data shows that the margin of lead in Obi's 77 per cent score in the latest poll is 8 per cent lower than the second wherein he polled 85 per cent. However, the gap of his lead remains relatively wide when compared to others.
The poll started in December 2022 and ended on Thursday, 23rd February 2023, two days to Nigeria's critical general elections.
READ ALSO: Pre-election Poll Shows Peter Obi Leading With 85%, Tinubu 10%, Atiku 4%
Being the third of the online pre-election opinion poll, the survey was to gauge the preferences of the electorate, especially the digital media-savvy ones, as the presidential candidates deeply engaged themselves in grassroots campaigns across the country to win support of Nigerians.
The poll was similar to the second phase conducted between September and November, which also came in the middle of campaigns. The first phase was conducted from July to September before campaigns kicked off.
Like other polls, the system allowed participants to vote once.
According to the poll results, the Labour Party presidential candidate took the lead for third time in a row. In the first poll, Obi scored 87.9 per cent, Tinubu 8.5 per cent, Atiku, 1.8 per cent; in the second phase, Obi scored 85 per cent, with Tinubu coming second with 10 per cent, and Atiku 4 per cent.
In all the three polls, while Obi was leading, Tinubu maintained second place while Atiku came third.
The PBA Poll is part of the social responsibility and watchdog role of the online newspaper to encourage participatory democracy in the West African nation.