Labour Party (LP) presidential candidate, Mr. Peter Obi, has pledged to restructure the commercial city of Aba in Abia State to become a major manufacturing hub and a big exporter of shoe products in the country.
Obi made the promise during town hall meetings with the business community, the council of traditional rulers and youths in Aba and Umuahia, Abia State capital on Friday.
Obi, who attended the meetings with the LP governorship candidate in Abia, Dr Alex Otti, said he would give the city of Aba access to the sea through Port Harcourt to facilitate the export of their products to other parts of the world.
Speaking to the council of traditional rulers who had gathered to meet with him in Umuahia, Obi said: "Aba has over 60,000 shoemakers. Nigeria's total export, 2021, in oil is about 15-18 billion dollars. Vietnam exported shoes for about 18 billion dollars. So, what we were able to export in oil is what Vietnam exported in shoes, footwear, and Aba is there. What Vietnam has that Aba does not have is access to the sea. If Aba has access to the sea, through Port Harcourt, it will be able to export to the world and compete. All they need is the support of the government. And I have said to them you can get it.
"Two years of my being there as president of Nigeria, Aba and Port Harcourt will be one town. One town, not because they will be the same but because it will take you 30 minutes to go from Aba to Port Harcourt and I will give them access to the sea, and I will encourage them to make sure that whatever they produce are exported."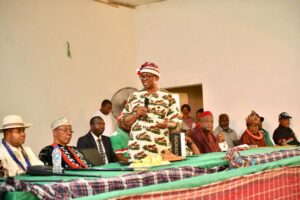 On why he is running for the office of the president, the LP candidate said his goal is to reform the country and take it from a production to a consumption economy.
He restated that he was not seeking an election because of where he comes from but because he is a Nigerian qualified to lead the country.
He said he had clean records as governor of Anambra State for eight years and challenged anyone to go and verify.
"I am not seeking this election based on the fact that it is the turn of the South East, even when the South East can have a claim to it. But I'm not contesting on that. I'm contesting this election because I'm a Nigerian who is most qualified among the 18 presidential candidates. I have what it takes to change Nigeria.
"This year's election is going to be based on the character we can trust. I have served in the private sector and we've made a success of it. I have served in the corporate world and have been a governor for eight years and I can say it wherever I go, in my eight years of being a governor whether there is anyway the resources of Anambra State was mismanaged.
"In my eight years of being governor, I cleared all the pensions and gratuities that were being owed before I came in. In my eight years as governor, I did not owe salary, gratuity, pension. You can go and verify. In the whole Federal Republic of Nigeria, luckily one of the former bank MDs when I was governor is here (referring to Alex Otti), I left 150 million dollars in three banks and over 13 billion Naira," Obi stated.
On his part, the LP gubernatorial candidate in the state, Dr. Alex Otti, said Aba is blessed as it is both a commercial and manufacturing centre.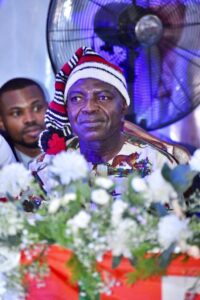 "Our presidential candidate's mantra is moving Nigeria from consumption to production and where else to have production than Aba. Aba is a blessed town. A town where you have a lot of manufacturing but you also have a lot of commercial activities. While Nnewi is a manufacturing hub, it does not have the commercial hub. Commercial activities happen in Onitsha. So, what I'm saying is that Aba is a combination of what you have in Nnewi and Onitsha.
"I can assure you with a purposeful government in Abia State, focussed on creating wealth, focussed on lifting people from poverty, focussed on industrialising Abia State, bringing back all those industries that have disappeared, ensuring that people live in comfort and harmony, ensuring that people do not live their lives begging, I'm sure the lost glory of Aba will come back," Otti said.