At least 50 people escaped death in a major crash involving 10 vehicles at Iyana-Oworo, along the Lagos-Ibadan Expressway. The accident occurred at exactly 3 pm on Friday. No life was lost. 
While all the passengers came out unscratched, two of the drivers sustained minor injuries on their faces.
The driver of the lorry, simply marked J 9365O and laden with bags of flour, had lost control down the Iyana Oworo slope en route to the Lagos- Ibadan Expressway after the brakes failed.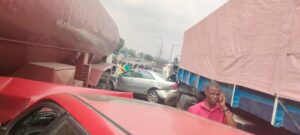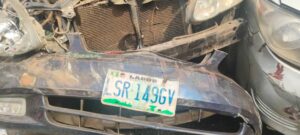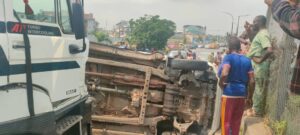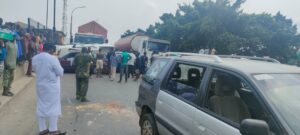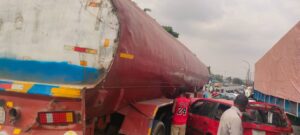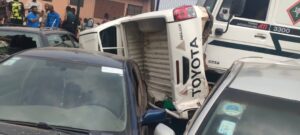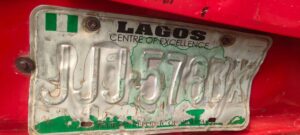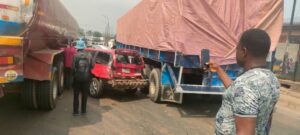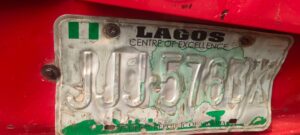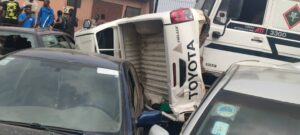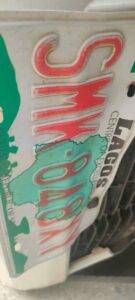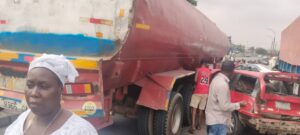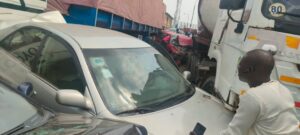 Shortly before the incident, the movement of tens of fleeing hawkers who had noticed the vehicle with its struggling driver uncontrollably descending the sloppy road had alerted other vehicles ahead of the truck. Unfortunately, the heavy traffic could not allow the drivers to swerve off the danger coming behind.
Based on the account of the two drivers and other passengers, Prime Business Africa can confirm that a cumulative of 50 passengers and drivers were inside the 10 vehicles involved in the crash.
Two vehicles ahead of the lorry had tried to avoid the distressed stuck but only ended up running under a red lorry laden with petrol by their side in the ensuing confusion. Left with limited options, the distressed lorry hit a white Hilux Van lifting it to as high as 100 feet and triggering a series of collisions among at least nine other vehicles. Two of the 10 drivers involved were seen with minor injuries, while many of the cars were damaged almost beyond repairs.
No death was recorded, even as the scene was littered with petrol sipping out of the fuel-laden red tanker and other vehicles that were almost squeezed to a crushing point.
The driver of a Toyota car, involved in the accident who simply gave his name as Mr Peter, said he was going to Ondo State before the unfortunate incident occurred. He told Prime Business Africa that he could not explain how "God saved" his life.
"I thank God," he said, declining further comments.
The driver of the Hilux Van, a 65-year-old light skinned man, also declined comments.
At the time of filing this report, men of the Lagos State Traffic Management Agency (LASTMA), and Federal Road Safety Corps (FRSC) had arrived the scene, even as commuters were stranded in the ensuing complication of the subsisting traffic jam.
As at 3.45 p.m on Friday, February 3, 2023, the two traffic agencies – LASTMA and FRSC –  with the support of a few police officers were still mobilising towing vans to clear the many damaged vehicles for traffic, even as Prime Business Africa correspondent was still trapped in the traffic.