Nigeria is a country blessed with diverse landscapes, vibrant cultures, and a fascinating history. From beautiful cities to breath-taking natural wonders, Nigeria offers a wide array of tourist attractions that will captivate the adventurous traveller.
In this article, we will explore five must-visit Tourist Attractions in Nigeria that showcase the country's rich cultural tapestry and stunning beauty.
Olumo Rock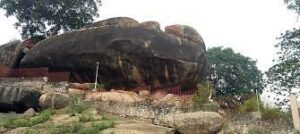 Situated in Abeokuta, the capital of Ogun State, Olumo Rock stands as a testament to Nigeria's ancient past. This massive granite outcrop offers not only breath taking views of the city but also a journey through history.
Ascend the rock through its well-carved stairs and walkways, passing through caves, shrines, and ancient settlements along the way. At the top, you will be rewarded with panoramic views and a chance to appreciate the ingenuity of the Egba people who used the rock as a natural fortress during wars.
READ ALSO:Lagos, Nigeria – A City Of Diversity And Vibrancy
Yankari National Park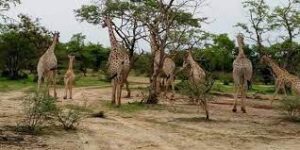 For nature enthusiasts and wildlife lovers, Yankari National Park is a must-visit destination. Located in Bauchi State, this expansive park is home to diverse wildlife, including elephants, buffaloes, antelopes, and over 350 bird species. Embark on a thrilling safari and witness these majestic creatures up close in their natural habitat.
Yankari also boasts soothing warm springs where you can relax and rejuvenate amidst the lush surroundings, making it a perfect getaway for both adventure and tranquillity.
Obudu Mountain Resort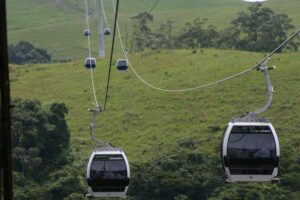 Obudu Mountain Resort is located in Cross River State and it is a popular destination for adventure seekers. The resort is situated on a plateau and offers stunning views of the surrounding landscape. Visitors can go on a cable car ride to the top of the mountain, where they can enjoy activities such as hiking, mountain biking, and horseback riding. The resort also has a golf course and a swimming pool.
READ ALSO:Discover the Best of Abuja: Nigeria's Capital City
Zuma Rock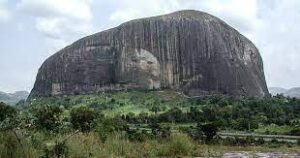 Zuma Rock is a famous landmark located in Niger State. The rock is over 700 meters tall and is considered to be one of the most recognizable natural features in Nigeria. Visitors can climb to the top of the rock to enjoy the stunning views of the surrounding landscape. The rock is also considered to have spiritual significance and is a popular destination for pilgrimages.
Idanre Hills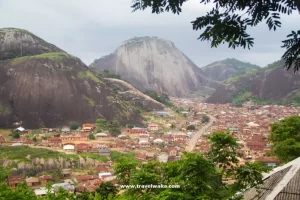 Tucked away in Ondo State, the Idanre Hills offer a captivating blend of natural beauty, historical significance, and cultural richness. Embark on a thrilling trek through lush forests, winding pathways, and ancient settlements to reach the hilltop village.
Discover the awe-inspiring Owa's Palace, an architectural masterpiece that served as the residence of the Idanre kingdom's rulers. The panoramic view from the hilltop is simply breathtaking, allowing you to witness the stunning landscapes of Ondo State in all their glory.
Nigeria's tourist attractions reflect the country's diversity, cultural heritage, and natural wonders. Whether you explore the bustling streets of Lagos, climb the ancient Olumo Rock, or embark on a safari in Yankari National Park, Nigeria offers a