In just six months, Nigeria's subsisting Cholera epidemic has shown enough capacity to kill much more than the COVID-19 pandemic has done in 16 months. Cholera has killed 479 Nigerians in 2021 alone, if statistics from the National Centre for Disease Control (NCDC) is anything to go by.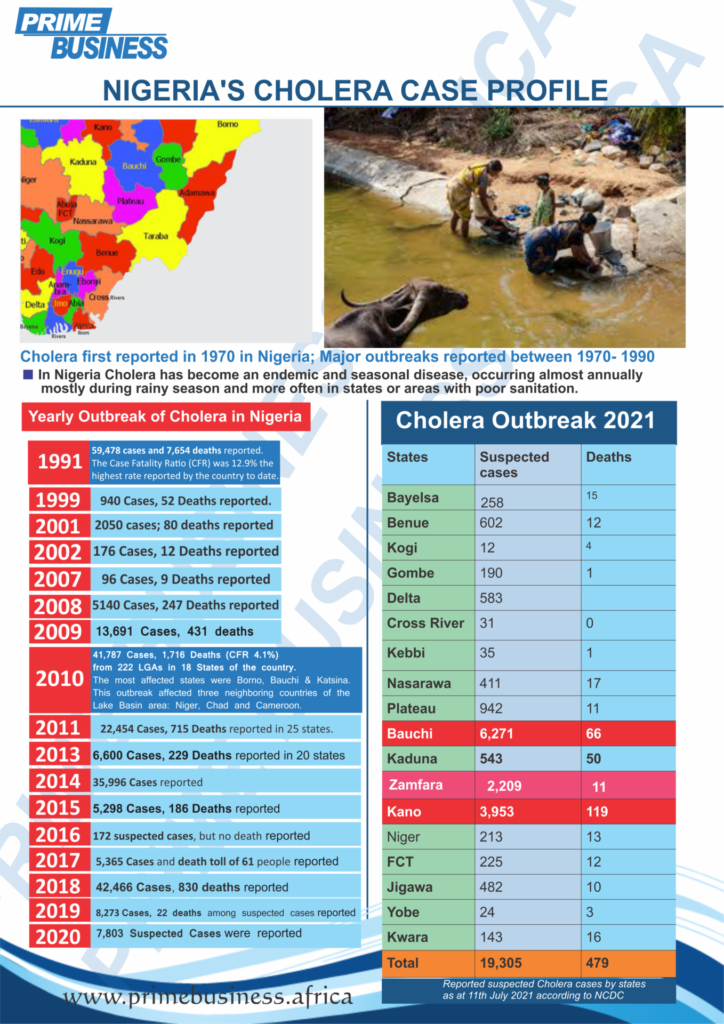 That number becomes huge and makes NCDC's figures on coronavirus pale into insignificance when placed side by side. COVID-19 pandemic that is currently ravaging the world has claimed far lesser number of Nigerians than the interestingly much more lowly-rated Cholera.
While Nigeria battles to contain the rise in cases of COVID-19, the bacterial disease is fast threatening public health and taking its toll in more than 50 percent of Nigeria's 36 states. 18 states are prostrate with active cases and death.
Enugu State, for instance, was recently greeted with cases of sudden sickness and deaths, incidents confirmed by the Ministry of Health to have been triggered by cholera outbreak. Commissioner of Health, Emmanuel Ikechukwu Obi, in a statement on Friday, 16 July 2021, said seven people died of the disease at the New Artisan Market in the state capital.
In another update on Monday, 19 July 2021, the Director, Public Health, Boniface Okoro, said seven more people had died of the infection in the area and 19 persons infected with the disease. This brought the total number of cholera deaths in the state to 14.
Okoro added that many of the affected persons were taken to the Enugu State University Teaching Hospital, while others were taken to an undisclosed private hospital in the area for treatment.
Okoro said the outbreak was caused by poor hygiene, improper waste disposal and drinking untreated water.
The New Artisan, as it's called, where the Cholera occurred is a busy market, mostly occupied by cattle sellers from Nigeria's northern states.
In Jigawa state, recent media reports say it has killed not less than 30 people with more than 2,000 hospitalized in the past two months in the state. Permanent Secretary, Jigawa State Ministry of Health, Dr Salisu Mu'azu, who confirmed the outbreak, said most of the victims were children recorded in nine local government areas of the state.
According to a situation report released by the Nigerian Centre for Disease Control (NCDC) as at 11th July 2021, a total of 19,305 suspected cases, including 479 deaths related to Cholera with Case Fatality Ratio, (CFR) of 2.5 percent, have been reported since the beginning of 2021. The states earlier listed in the NCDC report before Enugu incident include: Benue, Delta, Zamfara, Gombe, Bayelsa, Kogi, Sokoto, Bauchi, Kano, Kaduna, Plateau, Kebbi, Cross River, Nasarawa, Niger, Jigawa, Yobe, Kwara and FCT. In terms of number of suspected cases, Bauchi recorded highest with 6271, according to the NCDC report.
Looking at the NCDC report, about 80 percent of Nigeria's northern states are reeling under the weight of Cholera outbreak.
States of Bauchi (6,271), Plateau (942), Benue (602), Kaduna (543), Nasarawa (411), Jigawa (482) Kano (3,953) and Zamfara (2, 209) have 80 percent of the 13,905 suspected cases in Nigeria.
With 119 deaths this year, Kano outstrips all the other states in fatality rate, followed by Sokoto and Bauchi which have recorded 86 and 66 deaths respectively, and Kaduna which has 19 deaths. Cholera also killed 17 people in Nasarawa, 16 in Kwara, 15 in Bayelsa, 13 in Niger, 12 in Benue and FCT, and 11 Zamfara since the beginning of the year.
Interestingly, Delta, with its many controversial grazing sites, has an astonishing number of suspected cholera infections put at 583. No death has been recorded, however.
Cholera, according to a publication by the World Health Organization (WHO), is "an acute diarrhoeal infection caused by ingestion (in take) of food or water contaminated with the bacterium Vibrio cholera. WHO noted that Cholera is a public health problem which annually causes an estimated 1.3 million to 4 million cases and 21,000 to 143 000 deaths worldwide. It adds that it is"an indicator of inequity and lack of social development."
Dr. Charles Onyeke, an Enugu-based medical practitioner told Prime Business Africa that "Cholera occurs as a result of infection of human intestine by the bacteria. He confirmed that the disease could be contracted through food or water contaminated by the bacteria, adding that it occurs more often in undeveloped areas lacking good water supply and sewage disposal system. Onyeke revealed that a sick member of a household could equally infect other people.
WHO indicated that the bacteria could be present in the faeces of infected persons between one and 10 days, thereby circulating in the environment and "potentially infecting other people."
Some of the symptoms listed by WHO include: severe acute watery diarrhoeal, vomiting, nausea, dehydration (loss of water from the body due to constant passage of watery stool) and muscle cramps.
This can lead to death within a short time if left untreated.
Cholera outbreak has been confirmed in several states in Nigeria.
On prevention and control of the disease, Dr. Onyeke advised that people should wash hands regularly, drink clean water, avoid eating raw edibles, and maintain general sanitation of the environment.
WHO recommended a "multifaceted approach" as a way of curbing spread of the disease which involves "a combination of surveillance, water, sanitation and hygiene, are efforts so far by the State Ministry of Health to contain the emergency situation. Social mobilization, treatment and oral cholera vaccines."
Dr. Onyeke said the disease could be treated through rehydration therapy, ingestion of antibiotics, zinc supplement and amongst other medical measures.