Presidential candidate of the All Progressives Congress (APC),  Asiwaju Bola Ahmed Tinubu, has promised to revive agriculture, especially in the northern region to boost food production and also create more jobs in the country.
Tinubu made the promise in Damaturu, Yobe State capital on Tuesday at the APC presidential campaign rally also attended by President Muhammadu Buhari.
The former Lagos State governor urged Nigerians to reject the lies peddled by the opposition parties on the Buhari-led administration, noting that the present government is that of ''progress, integrity and honesty.''
The APC Presidential candidate, who lauded Buhari for the return of peace and normalcy in the Northeast region of the country, promised that his government would turn the region into the Agro-allied processing Centre of Nigeria.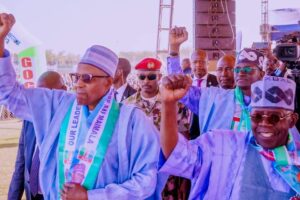 His words: ''We will give you good jobs that you can depend on. Agriculture will come back. Hunger will go away. We will give you what is necessary, consumer credit to build houses and roofs over your heads.''
Tinubu also promised to make the perennial ASUU strikes history, adding that undergraduates will not need to spend extra years in the university beyond the standard duration of course of study.
He, therefore, urged the people of Yobe and Northeast Nigeria to vote APC candidates in the general elections, assuring that Nigeria's economic prosperity will blossom under his watch.
On his part, Senate President, Ahmed Lawan, assured that APC would win every contestable seat in Yobe State, because President Buhari has done wonderfully well in the seven and half years he has been in office.
Lawan accused the Peoples Democratic Party (PDP) of destroying Nigeria during its 16 years in power, saying ''they should be ashamed of themselves and have no right to go around Nigeria seeking votes.''
''We are all Buharists and that Buharism- integrity and love for country/will continue when you (referring to President Buhari) hand over to Asiwaju,'' Lawan stated.
The Tinubu/Shettima campaign rally was attended by all the APC governors from the northern region, the party National Chairman, Abdullahi Adamu, the Vice Presidential Candidate, Shettima, as well as Plateau State Governor and Director General of the Presidential Campaign Council, Simon Lalong, among others.