Chairman of the Nigeria Governors Forum (NGF) and Ekiti State Governor, Olukayode Fayemi is currently on tour of All Progressives Congress (APC) states to consult colleague governors and other stakeholders on his 2023 presidential ambition despite having not publicly declared his intentions, Prime Business Africa reports.
The Ekiti governor had told this newspaper in an exclusive telephone chat that he would not be making his intentions public until after the Easter and Ramadan seasons.  But checks reveal that he is actively consulting stakeholders in APC states and seeking support for his presidential bid. Although he could not be reached personally for confirmation at this time, independent checks reveal that Fayemi is currently in active consultation tour of states, especially in the North, breaking daily Ramadan fast with stakeholders and some of the governors.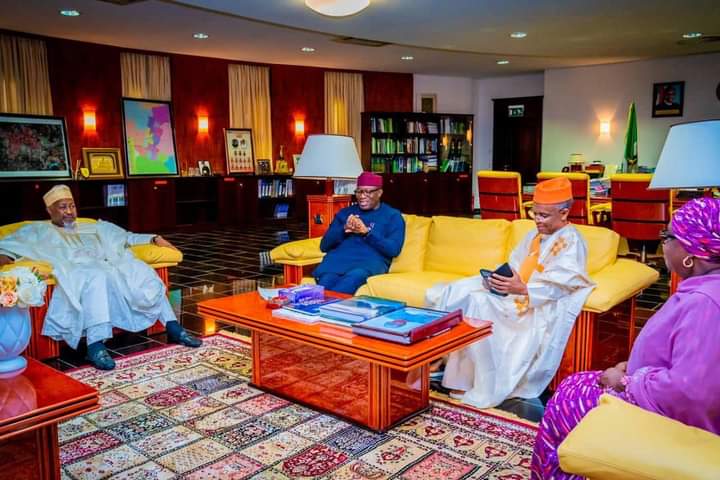 Governor Fayemi's latest move follows recent declarations by two of his fellow South-West 'compatriots', Asiwaju Bola Ahmed Tinubu (APC leader and former governor of Lagos State) and Vice President Yemi Osinbajo. The two APC aspirants had also met with APC governors to solicit support at the primaries
The NGF chairman had, in response to query on whether or not he would be declaring for the office of the President of the Federal Republic of Nigeria, told Prime Business that his inclination to deep spirituality would not permit him to make it public at a time Nigerians should be reflecting on God and issues of the moment.
Impeccable sources in at least three Northern states, out of the 10 Fayemi was said to have visited in the last five days, independently confirmed to Prime Business Africa that Fayemi  indeed broke fast with the governors and sought their support.
'' So far, the Ekiti State Governor has visited Gombe, Kaduna and Borno states. He will continue next week'' one of the sources told our correspondent in Kaduna.
''He is really consulting and embedding the ticket with the movers and shakers of the party,'' another reliable source in Borno State who is privy to what transpired during Fayemi's visit to the governor told Prime Business Africa regarding Fayemi's visit to core APC-controlled states in the North.
Two of our correspondents were able to independently access some photographs of the NGF chairman's visit to some of the governors as proof that he indeed visited them  at the time the sources claimed.
Recall that Fayemi had said he would not be declaring his intentions until the spiritual season is over, saying it would amount to disrespect to God and the spirituality of Nigerians to have begun to make such a deep political statement when Nigerian Christians and Muslims were in Lenten and Ramadan seasons respectively.
READ ALSO:EXCLUSIVE: I Won't Declare For 2023 Presidency During Lent, Ramadan – Fayemi