Niger Delta Affairs Minister, Mr Umana Umana, has commended APC supporters in the state for giving a strong support to the party's presidential candidate, Asiwaju Bola Tinubu, in the Saturday's election.
Speaking to this writer on Tuesday, Umana noted that with the performance of the party in the election, "we collectively achieved the objective of ensuring that Asiwaju exceeded the minimum Constitutional requirement'' for a candidate to be elected President. APC scored 160, 620, being 27% of total votes cast.
Umana also addressed a viral social media message that indicates that he and other party chieftains like Nsima Ekere and Senator Ita Enang had lost their wards and senatorial districts in the election, unlike Senator Akpabio who won all. "That kind of statement is not consequential,'' Umana said, adding that, "Senator Akpabio was personally on the ballot and he worked hard to win his election. I was not on any ballot. All the National Assembly candidates for Uyo Senatorial District were exclusively picked by Akpabio. He should take responsibility for their performance in the elections,'' said the minister.
Akpabio's victory on Saturday now puts him as the party's most ranking elected official in the state, and brings to memory the crisis that had erupted in the party four years ago over a tussle for supremacy and leadership. Many in the party are now pondering their fate, especially in terms of political patronages.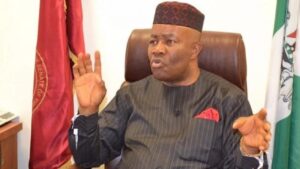 "Knowing the senator as I do, I can tell you with almost 100% certainty, that Akpabio will easily nominate either Etekamba Umoren or Arc. Ubokutom Nya as minister,'' said a senior party member with a tinge of derision who spoke to me over the weekend.
When reminded that these two gentlemen are from the same LGA as the Senator, the party official retorted, "Akpabio doesn't care about that; and fortunately for him, nobody in the party will oppose him.''
Support Investigative Journalism and Mentorship