The 2023 general elections is a contest between the young and other older members of the voting populace.This is the assertion of Barrister Amechi Jason Ekechukwu, who is the Independent National Electoral Commission ( INEC) Collation Officer in Igere Ward in Ado-Odo Local Government of Ogun State.Ekechukwu spoke with Prime Business Africa on the progress of the voting in the Polling area.
Please could you introduce yourselves to our readers, sir?
I am Barrister Amechi Jason Ekechukwu. This is Igere Ward in Ogun State. You can see that it is very peaceful.
People are voting and cooperating. INEC officials are there, they came on time. The Police are there. We are going to have a wonderful day.
Nigeria will speak and they have started speaking. We are going to have a good one.
From the voting patterns, where do you see the pendulum swinging?
Most of the youths here are obedient. But it's like most of the older ones are still insistent on voting either the APC or PDP.
They still cherish this idea of voting for the so-called traditional parties. They are still talking about the umbrella and the broom, if you get my drift.
The election will be a split. It's an election for the young and the old. The older generation are behind the umbrella and the broom. The youths are massively behind the Labour Party.
READ ALSO: See Election Results Real Time On INEC Viewing Portal!
Have you experienced any issues with your election materials like the BIVAS?
No. The BIVAS have been wonderful. They have been working. There has been no complaints.
During previous elections, we witnessed some flash points and ballot snatching. From the intelligence reports that you have gathered, has there been any of such experience?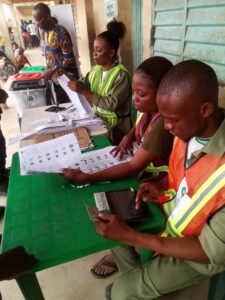 I have not heard that there has been ballot snatching. The elections have been smooth-sailing. Some miscreants tried to cause trouble in few places but generally its a violence-free election.
In terms of gender balance, would you say that women have voted as they should, or have the male voters been overwhelming; what's your observation? 
It's been competitive. The women have been coming out in their numbers, just like the men.
Support Investigative Journalism and Mentorship