Wizkid's manger and partner, Jada Pollock, have been criticised by many for sending what was widely tagged as an insensitive tweet on the eve of Davido's album release.
Pollock took to her Twitter page to promote Wizkid's album 'More Love, Less Ego' on the eve of Davido's album release, much to the irritation of many fans who found the tweet divisive and insensitive given the timing.
Fans saw the tweet as a way to cause a form of war between the lovers of Wizkid and his counterpart Davido, and they heavily criticised it.
Seeing the backlash, the talent manager wasted no time in trying to placate the angry fans. She took down the tweet and even reached out to the popular gossip blog 'Gossip Mill' to take down the post it made about it.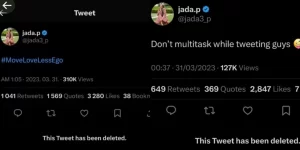 According to the blog that shared receipts of their conversation, Pollock urged them to take down the posts made about the tweet and other variations that may be divisive while noting that the spotlight shouldn't be taken away from Davido and his 'Timeless' album.
She wrote, "Can you please take down that post. Today is Davido's day! Let's not take that away from him. After everything he has been through. You should be celebrating & supporting. As a BIG platform you have the power to encourage unity not hate. These posts are so negative and just emphasises the fan wars! Do the right thing. It's these narratives that are not allowing out sound to grow at the speed it needs. Help Afrobeats to Win and take over the world. Thank you for responding."
Fans have done a complete turnaround, now praising Pollock for attempting to correct her 'mistake,' while confessing that the act makes them even love Wizkid and his team even more.
Davido's 'Timeless' album is out and currently streaming on all platforms.
Credibility and transparency is our DNA at Prime Business Africa'. We strongly believe in the role of media as a watchdog of the society that powerfully promotes accountability and transparency in government.
By contributing to Prime Business Africa, you are helping to sustain good journalism and making sure that it remains free to all.
Support Investigative Journalism and Mentorship
Courageous Journalism of Truth,Transparency and Development is in the DNA of Prime Business Africa; By donating as little as N1000 or $1 today, you are helping to keep credible journalism and life-changing information free for all.