All Progressives Congress (APC) presidential candidate, Asiwaju Bola Ahmed Tinubu has picked former governor of Borno State, Kashim Shettima as running mate in the 2023 election.
Tinubu made the announcement in Daura Kastina State while briefing newsmen after a closed-door meeting with President Muhammadu Buhari in his residence.
The announcement followed the decision of Ibrahim Masari to step down. Masari was earlier nominated as placeholder for the APC vice presidential candidate pending when a substantive running mate is selected.
In a statement earlier on Sunday, Masari stated that after a crucial discussion with Tinubu and wider consultation, he decided to withdraw from the race to enable Tinubu make better choices that would position APC to win in the 2023 election.
He said, "after much reflection and wider consultations, I now wish to step down. I realized that my decision will enable Asiwaju have more latitude to give more accommodation and inclusion that will position our party to win the coming elections, with the support of the people of Nigeria."
He equally indicated that he has submitted a withdrawal letter and affidavit to that effect, and thanked Tinubu for the trust reposed on him, while promising to be of service to the party in future.
The APC flag bearer said his choice of Shettima as his running mate was because of the former Borno governor's competence and capability.
He said the vice presidential candidate he has chosen is eminently qualified given his past career in politics and beyond. Tinubu added that his choice of Shettima is not based on ethnic, regional or religious affiliation but because he believes that lawmaker can help him deliver the good governance he craves for in the country.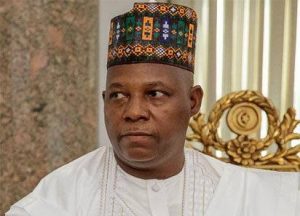 Shettima was the governor of Borno State from 2011 to 2019 when he was elected senator representing Borno Central Senatorial District in the national assembly.
Support Investigative Journalism and Mentorship
Courageous Journalism of Truth,Transparency and Development is in the DNA of Prime Business Africa; By donating as little as N1000 or $1 today, you are helping to keep credible journalism and life-changing information free for all.